Top Ten Most Expensive Suites in Las Vegas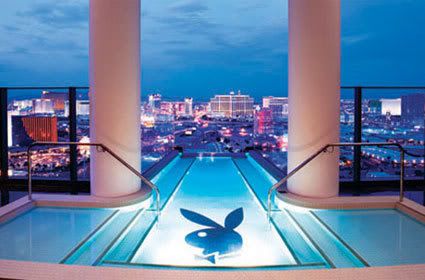 Sky Villas at the Palms -- $25,000 and up
The Palms offers four single-story Sky Villas ($25,000), a pair of two-story Sky Villas ($35,000) and the Hugh Hefner Suite ($40,000). The suites feature indoor waterfalls, private poker rooms and outdoor cantilevered jacuzzis. Ranging in size from 6,000 to 9,000 square feet, all of them have private spas that include steam rooms and saunas. You'll find them at The Palms.
www.palmsfantasy.com
| 866.725.6773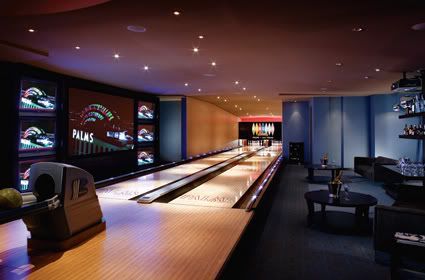 The Fantasy Towers at Palms: Kingpin Suite -- $15,000
The Kingpin Suite is designed to party: two regulation-size bowling lanes, a multi-screen media center, pool table and floor-to-ceiling windows. The 4,240 square-foot suite on the 25th floor has two bedrooms, three bathrooms, the requisite Jacuzzi, and is designed with a hip retro interior. Recent celebrity occupants include TV's Girls Next Door -- 15 Plaboy Playmates celebrating their friend Kendra's 21st birthday. Only at The Palms.
www.palmsfantasy.com
| 866.725.6773
Caesars Artemis and Neptune Villas -- Casino-invited guests only
Four years ago the elegant Palace Court restaurant was transformed into two luxury villas reserved for specially invited casino guests. Both 8,000 square foot suites overlook the Garden of the Gods pool, have guarded private entrances, and offer full 24-hour butler service. The Neptune Villa has a subtle sea theme with private humidor and wine cellar and the rare addition of a barber's chair off the main bedroom. The Artemis Villa has a billiard room as well as a virtual golf course by Full Golf Swing that allows you to select between 50 professional courses. And yes, Oprah stayed here. Only at Caesars Palace
www.caesars.com
| 702.731.7110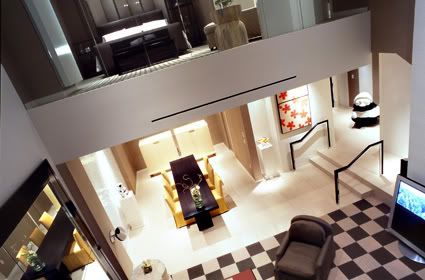 SKYLOFTS at MGM Grand -- $800 to $10,000
These 1,400 to 6,000 square foot luxury lofts feature one to three bedrooms, 24-foot floor-to-ceiling windows, and custom Bang & Olufsen audio and visual entertainment amenities. Suite service includes an airport pick-up in a Maybach '62 sedan and preferred seating at MGM Grand shows and celebrity restaurants. Other perks include an in-loft espresso machine, personalized stationery, use of a laptop, and a plasma TV mounted over an Infinity spa tub.
www.skyloftsmgmgrand.com
| 877.646.5638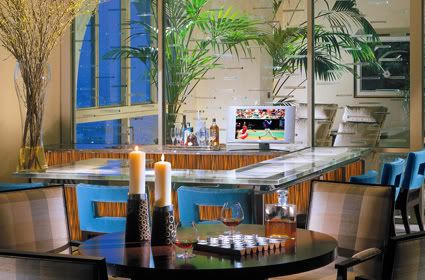 Bellagio Chairman and Presidential Suites -- $5,000
The Bellagio recently introduced the Chairman and the Presidential Suites with the new Spa Tower. Suite fees include limousine pick-up, 24-hour butler service, VIP seating for Cirque du Soleil's "O" and reservations at any of the MGM Mirage shows and restaurants. Each room in The Bellagio has its own solarium, 14-foot ceilings, fireplace, bar, and a dramatic reflection pool entrance.
www.bellagio.com
| 888.987.6667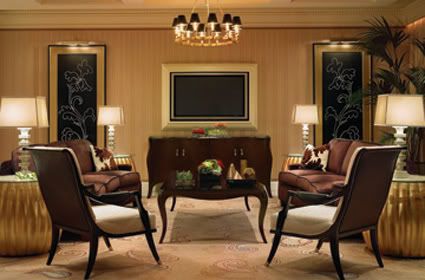 Wynn Fairway Villas -- $5,000 to $7,500
With a private VIP entrance, the 36 Fairway Villas at Steve Wynn's signature resort overlook the only golf course on the Strip. All rooms have 24-hour butler service that includes preparing personal meals, or procuring a rare bottle of wine. The most inviting amenity exists on the 12 first-floor suites, where each room has its own Infinity pool overlooking the golf course. Guests at the Fairway Villas also have access to the Steve Wynn's custom fleet of Bentley automobiles, which boasts four Arnage RL limousines and four Silver Spurs.
www.wynnlasvegas.com
| 888-320-WYNN
Four Seasons 180-Degree Suite -- $2,250 to $3,500
Despite having a larger suite in the house (The Presidential Suite), the 180-Degree Suite is the most brag-worthy collection of rooms. Vegas lovers will croon over the breathtaking view of the Strip from the 35th or 39th floor, and non-gamblers will enjoy the fact that the Four Seasons, high atop the Mandalay Bay Hotel & Casino, is completely free of the whir and buzz of slot machines. The rooms at the Four Seasons feel more like an elegant residence than a hotel, and sunrise over the city more than makes up for the lack of butler service.
www.fourseasons.com/lasvegas
| 702.632.5000
Venetian Presidential Suites -- Casino-invited guests only
The Venetian, known for its elegant rooms, has even more to offer in the Presidential Suites. The rooms are located on the 34th to 36th floors, and each suite occupies more than 5,000 square feet. Guests can enjoy an eight-seat theater room, two spa bathtubs and steam showers, an exercise room and dry sauna, and three fireplaces made from Venetian marble. There's even a piano to play if you're not too busy having fun at the most raved about club in town--Tao.
www.venetian.com
| 877.857.1861
Monte Carlo's 32nd Floor -- $550 to $5,000
The 32nd floor of the Monte Carlo is a private concierge floor devoted to deluxe rooms and penthouse suites. These spacious rooms feature oversized spa tubs and steam showers. Patrons also receive limousine transport from the airport, VIP check-in and access to the concierge lounge. Only at the MGM Mirage
www.montecarlo.com
| 888.529.4828
Palazzo Suites at the Rio -- Casino-invited guests only
At a hotel filled completely to the brim with suites, it is no surprise that nine would stand above the rest--or hidden behind the rest, if you want to look at it from an availability standpoint. The opulent Palazzo Suites have their own private entrance away from the casino floors, and have been known to be a hideaway for rock stars. The multiroomed suites at the Rio are furnished with antiques and art bought in Paris, London, New York and San Francisco. There is a private pool area with cabanas, and 24-hour butler service is par for the course.