Speed & Mischief, RSVPatl, Wild Bills....invites you to: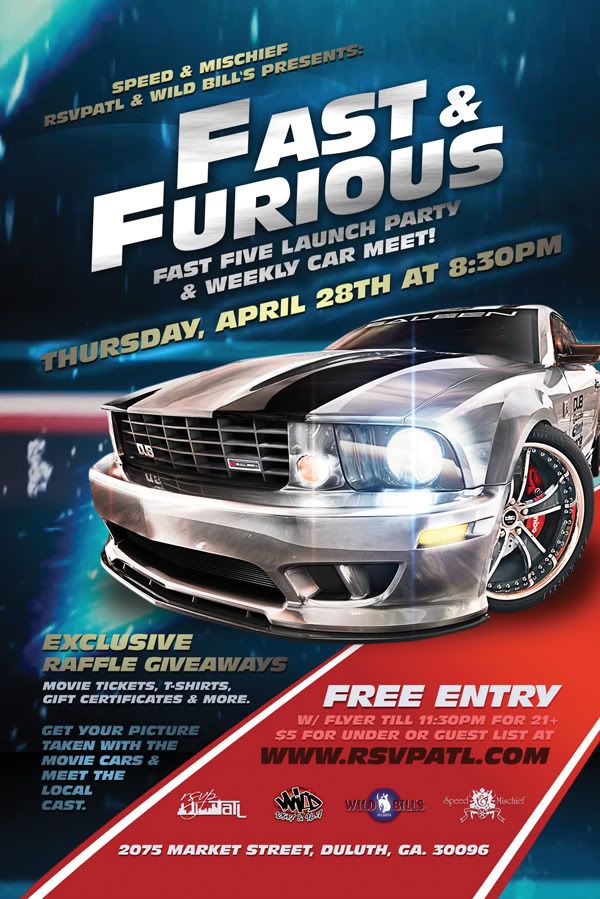 1 Night = Fast & Furious Fast Five Movie Release Party + Car show/meet + Movie cars + Giveaways (Thanks to Universal Studios) + Hot Crowd + Hot Music + Hot Party. Can you handle it?

Oh forgot the good part, it's FREE (for 21+, $5 for 18+).
When: 04/28/10,
Time: 8:00pm-Close
Where: Wild Bills, 2075 Market Street, Duluth, GA
Dress Code: It's a party, dress to impress.
Event Facebook:
http://www.facebook.com/event.php?eid=202364563119027
Come chill, meet the local cast, hear some of the behind the scene stories (spoiler alert), see/take pictures with the movie cars, win prizes like Movie Tickets, T-shirts, gifts, etc, and party the night off. You know, how we doe it at Speed & Mischief. If not then come find out.
Come early to score prime parking spots.
Your's truly mischievous
Sunny M
Disclaimer: Officers are being hired to watch over the cars and for security. All the attending cars will be allowed to park in the valet parking of Wild Bills, right in front of the main doors for no charge (until we run out off room). No immaturity will be tolerated.