Discussion Starter
·
#1
·
Recently, I was lucky enough to be able to go to a Porsche exhibit set up at the North Carolina Museum of Art. I will keep the text in this post to a minimum as to let the pictures do the talking but as the guest curator said in his own words, "These superlative examples of the signature Porsche design principles- minimalism, aerodynamic fluidity, and technical innovation-illustrate the history of this unique manufacturer, from the 1930s to the present day."
This collection of cars comes from various private collections of cars from the likes of Ralph Lauren, Chad Mcqueen, The Porsche Museum, and many other private collectors (including a personal friend who had 5 of their cars on display)
Regretfully, the only car I was unable to get a picture of was the oldest and arguably most rare car there, a black 1938 Type 64 Berlin-Rom Racer owned by the Collection of the Automuseum Prototyp in Hamburg, Germany.
Here are the pictures I got and a little info on each (Sorry for the phone pictures, batteries in my camera were dead on arrival to the expo)
1949 Porsche Type 356 Gmünd Coupe
Engine: 1,098 cc. air cooled, horizontally opposed, OHV 4-cylinder
Horsepower: 72 hp at 5,000 rpm
Transmission: 4-speed nonsynchromesh manual
Top Speed: 100 mph
Wheelbase: 82.7 in.
Suspension: Independent front transverse torsion bars w/ parallel trailing arms; independent rear swing axle w/ single trailing arm on each side
Weight: 1,430 pounds
1958 Porsche Type 356 Speedster 1600 Super
Engine: 1,582 cc. air cooled, horizontally opposed, OHV 4-cylinder
Horsepower: 88 hp at 5,500 rpm
Transmission: 4-speed synchromesh manual
Top Speed: 110 mph
Wheelbase: 82.7 in.
Suspension: Independent front transverse torsion bars w/ parallel trailing arms; independent rear swing axle w/ single trailing arm on each side
Weight: 2,150 pounds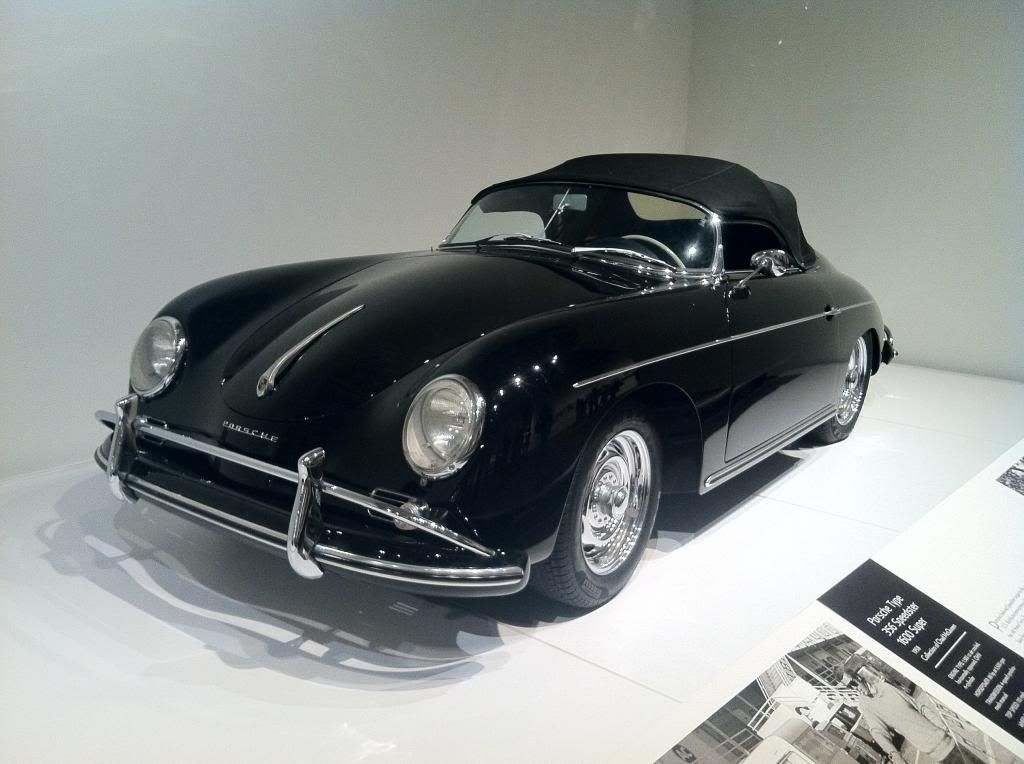 1961 Porsche Type 356B 1600 Carrera GTL Abarth Coupe
Engine: 1,587 cc. air cooled, horizontally opposed, DOHC 4-cylinder
Horsepower: 147 hp at 7,400 rpm
Transmission: 4-speed synchromesh manual
Top Speed: 144 mph
Wheelbase: 82.7 in.
Suspension: Independent front transverse torsion bars w/ parallel trailing arms; independent rear swing axle w/ single trailing arm on each side
Weight: 1,762 pounds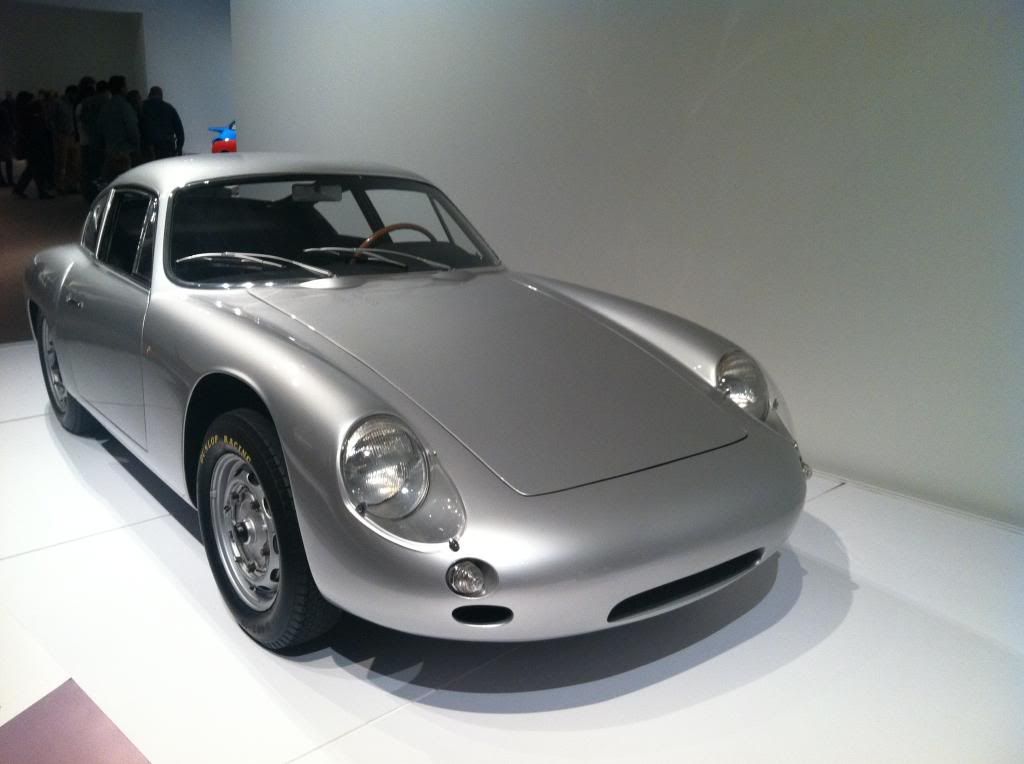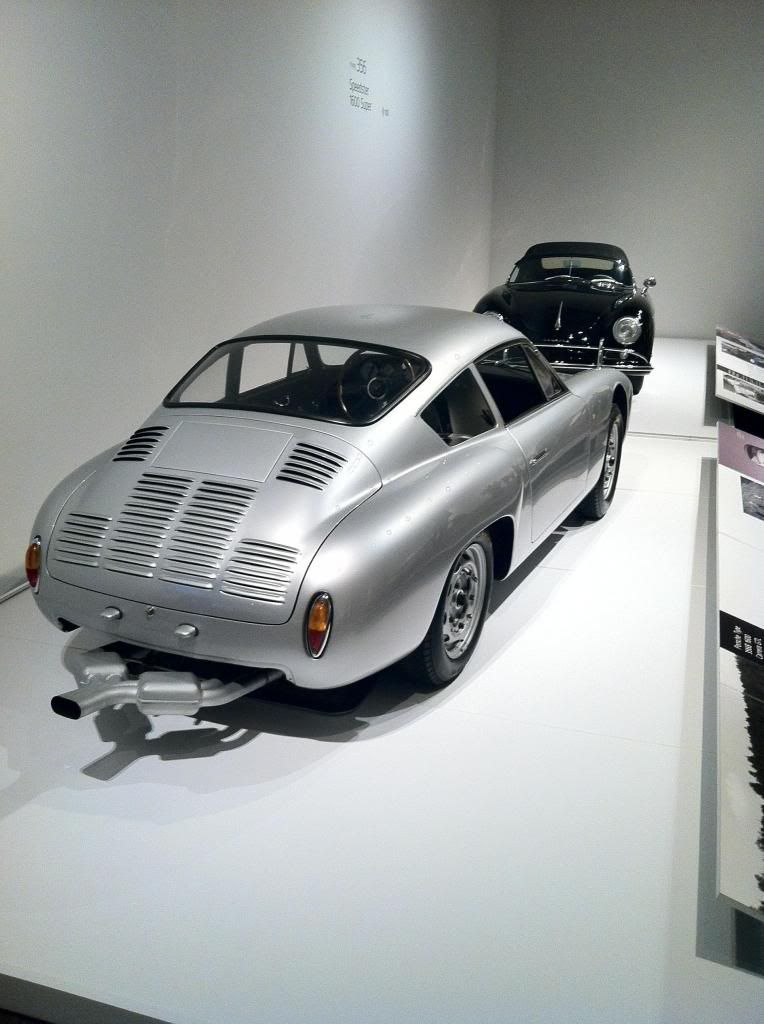 (Pictured with the 356 Speedster as well)
1964 Porsche Type 356C Carrera 2 Coupe
Engine: 1,966 cc. air cooled, horizontally opposed, OHV 4-cylinder
Horsepower: 128 hp at 6,200 rpm
Transmission: 4-speed synchromesh manual
Top Speed: 125 mph
Wheelbase: 82.7 in.
Suspension: Independent front transverse torsion bars w/ parallel trailing arms; independent rear swing axle w/ single trailing arm on each side
Weight: 2,150 pounds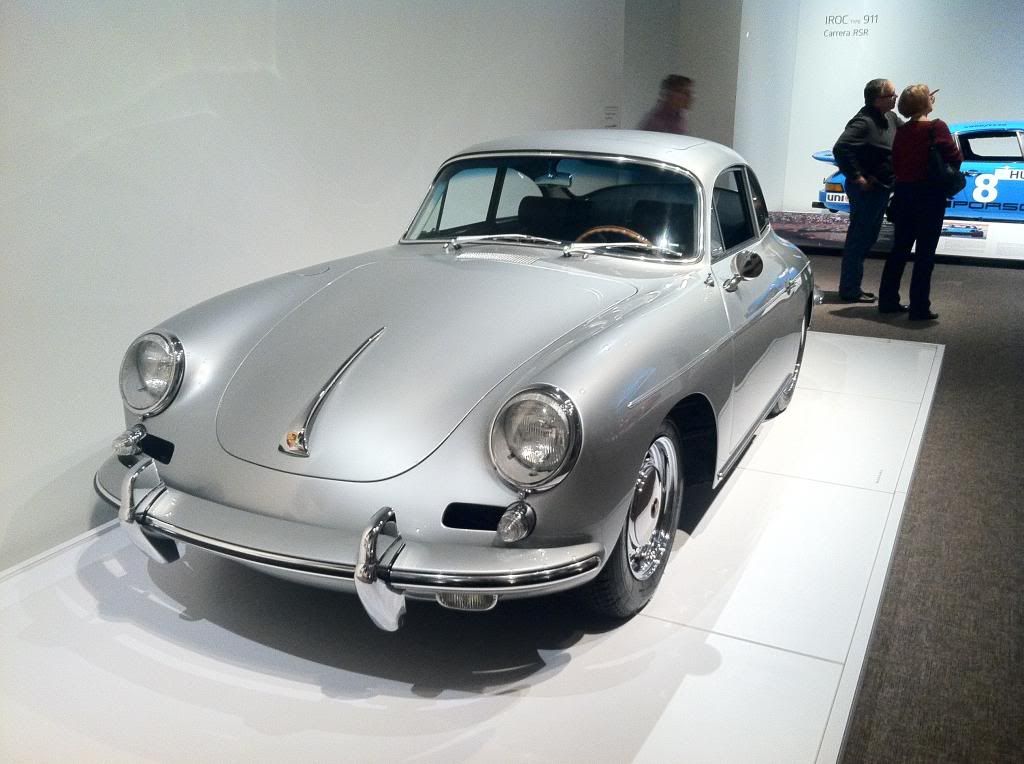 (Easily one of my favorites!)
1965 Porsche Type 365C Cabriolet
(This example famously owned by Janis Joplin)
Engine: 1,582 cc. air cooled, horizontally opposed, OHV 4-cylinder
Horsepower: 88 hp at 5,200 rpm
Transmission: 4-speed nonsynchromesh manual
Top Speed: 110 mph
Wheelbase: 82.7 in.
Transmission: Independent front transverse torsion bars w/ parallel trailing arms; independent rear swing axle w/ single trailing arm on each side
Weight: 2,150 pounds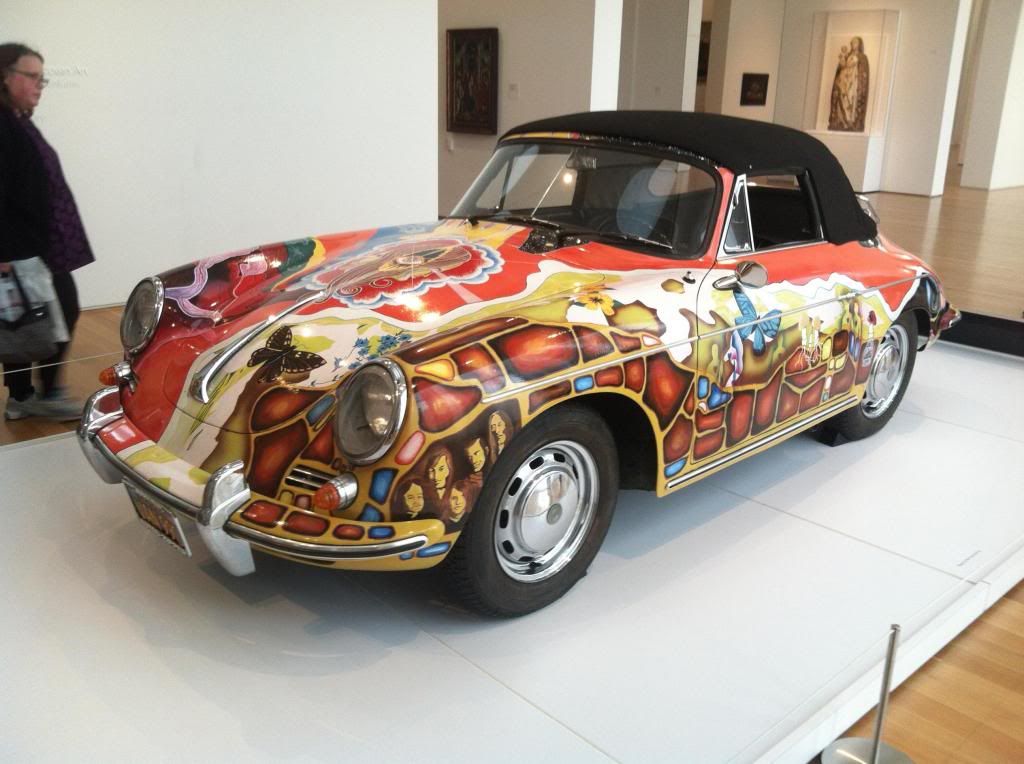 (Unfortunately this car was no longer in running condition and had 130,000+ miles logged on the odometer)
1953 Porsche Type 550 Prototype
Engine: 1,498 cc. air cooled, horizontally opposed, OHV 4-cylinder
Horsepower: 98 hp at 5,500 rpm
Transmission: 4-speed synchromesh manual
Top Speed: Estimated 110 mph
Wheelbase: 82.7 in.
Suspension: Independent front transverse torsion bars w/ parallel trailing arms; independent rear swing axle w/ single trailing arm on each side
Weight: 1,450 pounds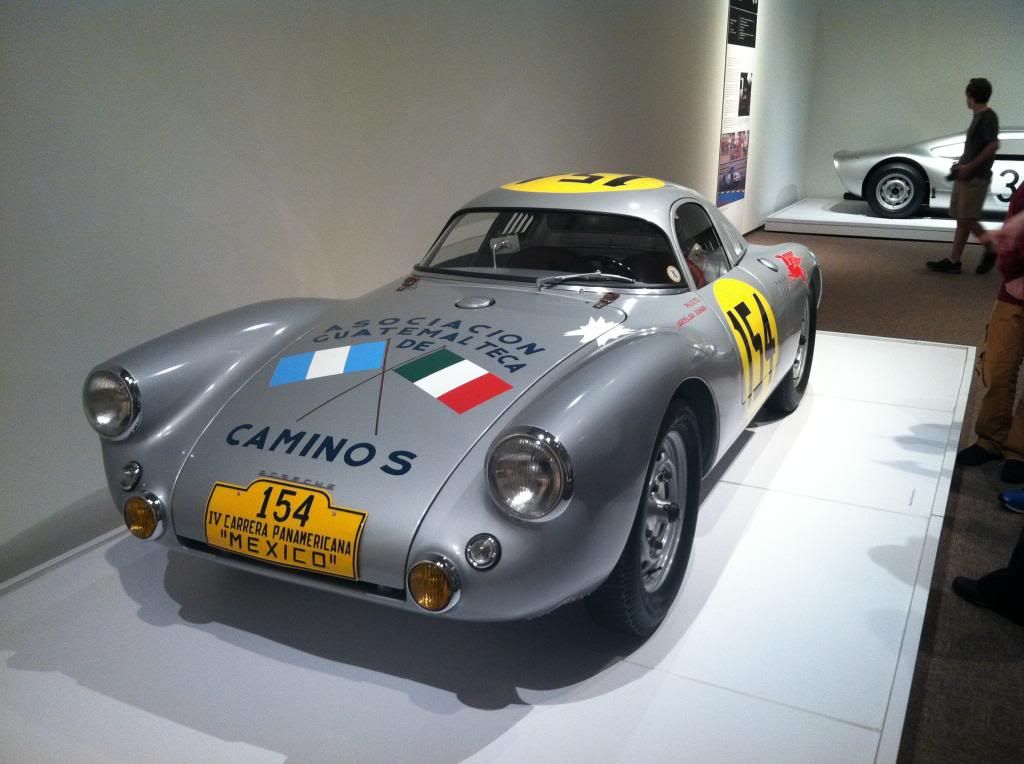 1962 Porsche Type 804 Formula One
Engine: 1,494 cc. air cooled, horizontally opposed, carbureted DOHC 8-cylinder
Horsepower: 180 hp at 9,200 rpm
Transmission: 6-speed manual transaxle
Top Speed: 168 mph
Wheelbase: 90.5 in.
Suspension: Independent front double wishbones, longitudinal torsion bars, inboard-mounted shocks; double rear wishbones, torsion tube, inboard-mounted shocks
Weight: 996.5 pounds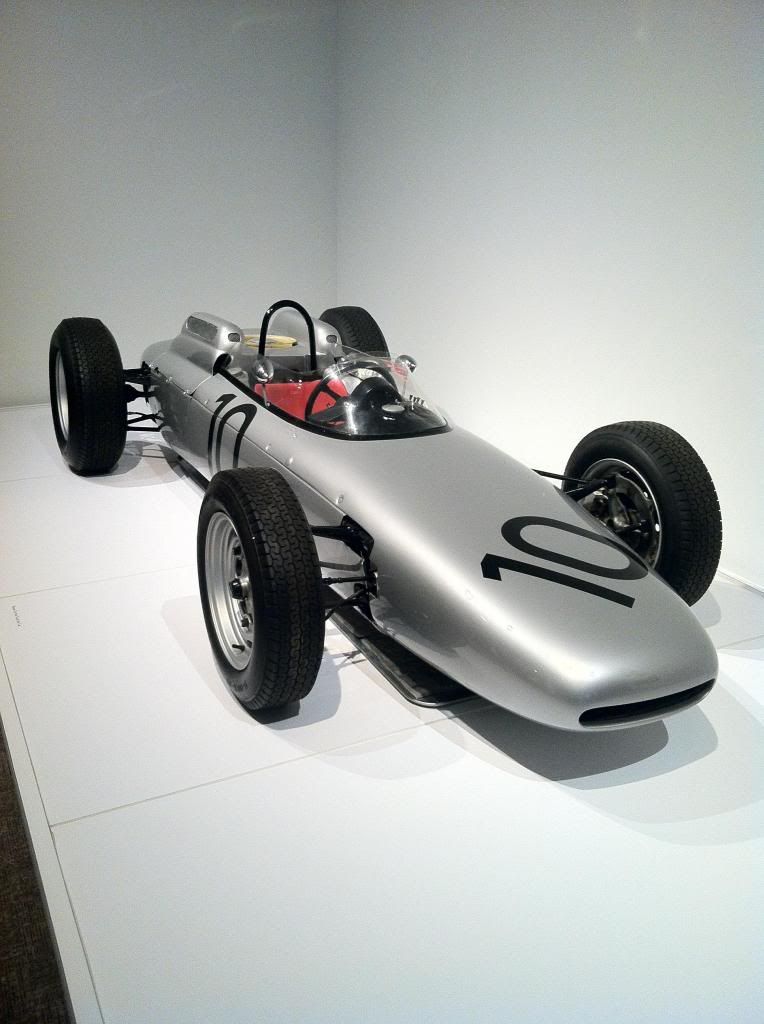 1965 Porsche Type 904/6 Prototype
Engine: 2,000 cc. air cooled, horizontally opposed, DOHC 6-cylinder
Horsepower: 245 hp at 8,000 rpm
Transmission: 4-speed synchromesh manual
Top Speed: 160 mph
Wheelbase: 90.6 in.
Suspension: Independent front double wishbones with coil springs; independent rear multilink with coil springs
Weight: 1,443 pounds