Discussion Starter
•
#1
•
I would like to announce a few new product offerings from Sonax!

Sonax Upholstery and Alcantara Cleaner 250ML
- Price: $19.99
SONAX Upholstery & Alcantara Cleaner is a brand new formulation developed especially for vehicles with Alcantara seats and accessories. Dirty & matted Alcantara will be brought back to it's original vibrant colors and soft, suede feel. SONAX Upholstery & Alcantara Cleaner is also safe and effective on carpets, textiles & standard upholstered seating and interior surfaces.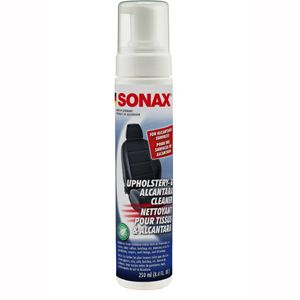 Sonax Plastic Restorer Gel 250 ML
- Price: $17.99
SONAX Plastic Restorer Gel contains Microscopic Nano particles that penetrate deeply into grained and structured surfaces, thereby providing long-lasting protection and long-term conservation. The transparent gel is suitable for all colors; revitalizing bumpers, trim and exterior components, giving them a deep, rich shine. Also ideal for tires & rubber components.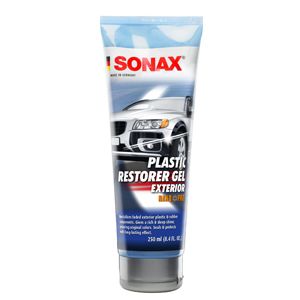 Sonax Insect Remover 500 ML
- Price: $12.99
Sonax Insect Remover quickly and effortlessly removes insects from glass, paintwork, chrome and plastics. Due to its outstanding infiltration abilities, the special cleaner softens up even dried on insect deposits, without attacking the surfaces. Residues are removed quickly and gently. Solvent-free.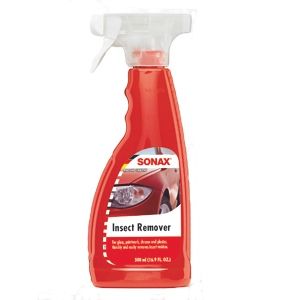 Sonax Perfect Finish 4/6 in 250ML
- Price: $24.99
Sonax Perfect Finish 4/6 is a one step polish that achieves what many have to do in two steps! This is a true time save for cars in relatively good condition and will take many imperfections out of cars that are a little rough around the edges. That being said Perfect Finish will work excellent as a final step after the compounds like Meg's M101, M105, D300, and Menzerna FG400.
Silicone-free polish for hazed, marred, and lightly scratched paintwork and scratch-proof clear paint. Ideal as finish after applying abrasive polishes.
The use of a new type of nano-sized abrasives enables rapid polishing, while effectively removing scratches and producing a brilliant gloss. Removes sanding marks of P2500 sand papers.
Hologram-free polishing result.
Sonax Car Wash Shampoo 5L
- Price: $79.99
Sonax Car Wash Shampoo Concentrate
Sonax Car Wash Shampoo Concentrate is a highly effective, phosphate free formula that penetrates and loosens tough dirt without damaging or stripping the protective layer.The special anionic surfactants within, adhere to dirt particles and act as emulsifiers absorbing and dissolving oil droplets. SONAX Car Wash Shampoo Concentrate is safe for all finishes and leaves a brilliant,clean shine to your paint surface every time!
Product Attributes:
Brilliant, Surfactant-rich Formula
Gentle on Paint Surfaces, Wont Strip Wax
Thick Lathering Action and Pleasant Scent
Phosphate Free, ph-neutral Formula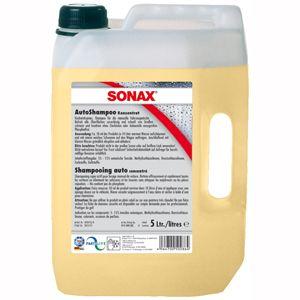 Sonax Clear Glass Cleaner 10L
- Price: $99.99
Sonax Glass Cleaner eradicates exhaust film, nicotine film, insects, and dirt from windshields and windows. This phosphate-free formula leaves a streak-free shine for optimum visibility. Use the Sonax Glass Cleaner on household glass, too.
Spray onto windscreens and mirrors with the pump sprayer, allow to work in briefly, then wipe off with paper towels or Car Care Cloth.
Product Attributes:
- Keep your windshield clean and clear by regularly cleaning it with SONAX Glass Cleaner.
- It eliminates stubborn films quickly and easily.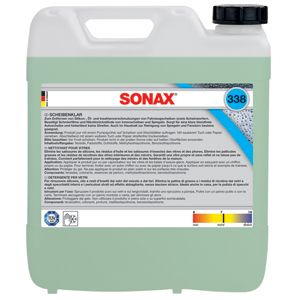 Sonax Multistar 10L
- Price: $99.99
Sonax MultiStar Universal Cleaner Professional Refill Size Size: 10L
Sonax MultiStar is an extremely versatile & universal cleaner, for exterior & Interior surfaces.
Easily and effectively cleans trouble exterior areas such as wheel wells and engine compartments, but
is also safe & tolerant to almost any interior surface without staining or adverse effects.
Safe on any interior surface except Clear interior plastics & leather.
Sonax MultiStar is an alkaline based cleaner and is most effective on organic stains and
residue build ups. The formula safely and effectively removes food, insects, blood or any
naturally occuring substance with relative ease.
Product Highlights:
Powerful, universal cleaner for Interior & Exterior surfaces
Combines maximum cleaning power with optimum material tolerance
Excellent choice for adhesive, foil covered surfaces
Do not use on clear plastics (instrument panel & Nav screens)

Save $49.99 when purchasing this intro Sonax Trial Bundle!