Discussion Starter
·
#1
·
Taken from Pistonheads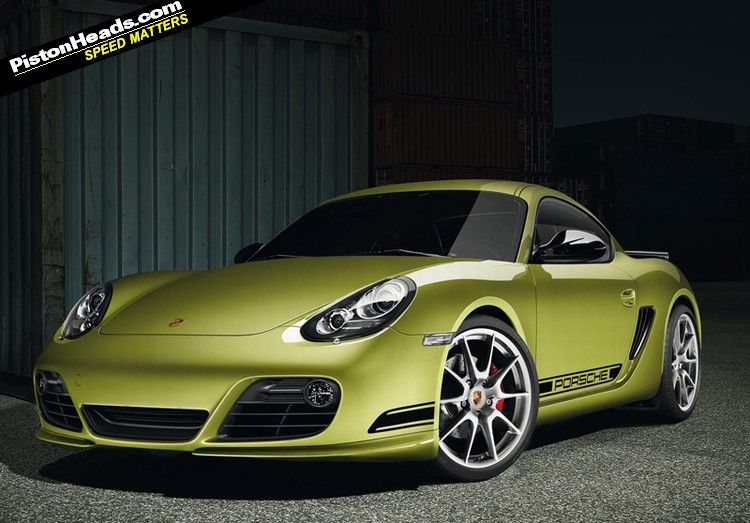 The popular and effective Porsche Cayman coupe has been given a performance make-over. The result is a new 'R' model that will go on sale in February priced from a whisker under £52k.
The new model follows a tried and tested path, with a 55kgs weight loss plan augmented by a lower, stiffer chassis and a minor horsepower hike - up 10 from the Cayman S to 330hp.
The fat has been trimmed through the use lightweight components and stripping out luxuries like the air con and stereo. So you'll get aluminium doors, carbon fibre sports bucket seats and interior door panels a la 911 GT3 RS, and there's also a slightly smaller fuel tank.
The sports suspension system lowers the Cayman R by 20 mm, and the new model will also come as standard with a limited slip differential, and lightweight 19" alloy wheels (from the Boxster Spyder) that reduce weight by 5kg.
With a six-speed manual transmission, the Cayman R sprints from 0 to 62mph in 5.0secs, two-tenths faster than the Cayman S. With the optional seven-speed dual-clutch PDK transmission and Sport Chrono, you'll get to 62mph in 4.7 seconds. Top speed goes up by 3mph to a heady 175 mph.
There's a new Cayman Aerokit with fixed rear spoiler in contrasting colour, and black-framed halogen headlights, contrasting side mirrors and decorative "PORSCHE" side-stripes will help you stand out in the crowd. The car in the photos features a new 'Peridot' metallic paint from the options list.