If your into vintage stuff and woody's. Get comfortable and put on some Frank Sinatra or Astrud Gilberto and enjoy my story.
I remember when I first saw the teak strips with white chalking in between them glistening in the sun like water. Still to this day the colors and the site of it just make me melt. It was just 100% pure class. Its sad because I feel like I missed some of the greatest times in American history, but I try to keep the legacy going for y generation. Boats old and new always fascinated me. I wont mention why but its the ultimate freedom, considering people have sailed around the world in row boats and what not. So I have been around boats quite a bit in my child hood but I think I was about 19 when I got my first boat. A little 70's fiberglass 19' 455 ols Tahiti jet. It was my home away from home. My new adult hood. Straying off all the time on my boat. After that it was no longer a hobby but an obsession. I started buying and selling boats like crazy and all kinds. Then I started getting into sail boats. Fast forward about 6 boats and a couple years. I remember laying in bed almost every night closing my eyes dreaming of laying in a big vintage yacht. So for a year or so I looked and looked at all kinds of boats. My budget limited me to small woody's or big $hity ones. I wasn't in a good place until I met hot rod builder Jerry Sezar.
Jerry had this boat that originally belong to the comedian Jerry Lewis and came from Mich to San Diego then up to Sezar's in Discovery bay. Since his ownership Jerry put a lot of time and money into the boat. I think by the time I got it he was probably into $125K. Unfortunately Sezar got in an accident that nearly killed him and put in him in critical condision for 15 days from a race fuel fire in his hot rod shop. It took him about two years to recover enough to be able to do light work. So the boat sat for two years untouched and if you know wood boats you know they need constant work, like lots and once a week. Man, it was bad shape on the surface but it had all the guts needed to be a complete boat. New chine boards, 2 new volvo penta 350's, rebuild trany's and upgraded props all done right before his accident. So in car terms I guess you could say it had a good chassis and drive train. Plus I think the boat originally had inline 6's so it was majority over powered which can always be a good thing.
Most people want gold for what ever they have but Jerry gave me an opportunity not many people get. Not only did he pretty much give me this boat but he welcomed me into his home and let me even use his tools to get it into decent enough shape to take it on its 2 day journey to the bay area. You don't find people that do things like that. I really miss that period of my life.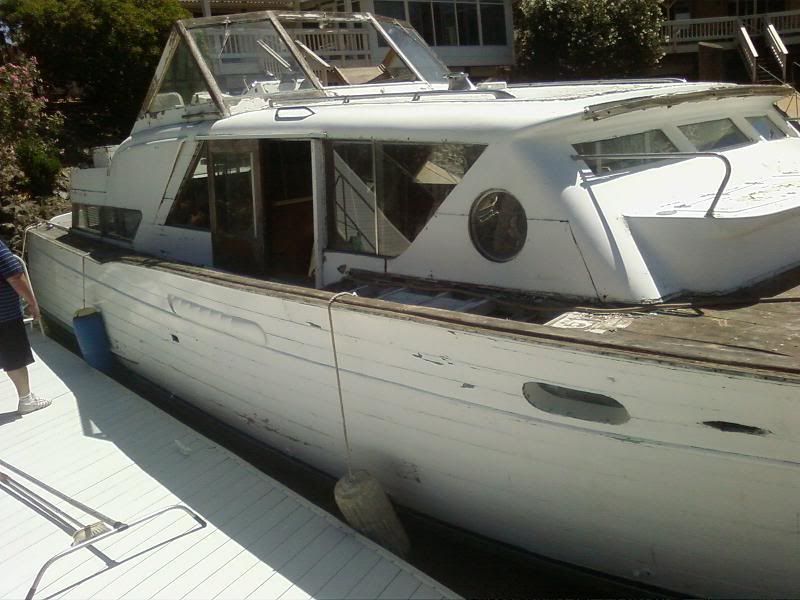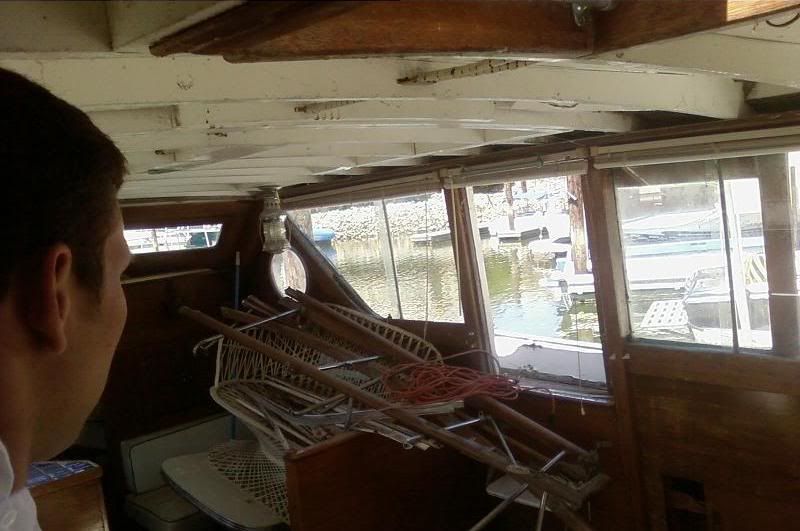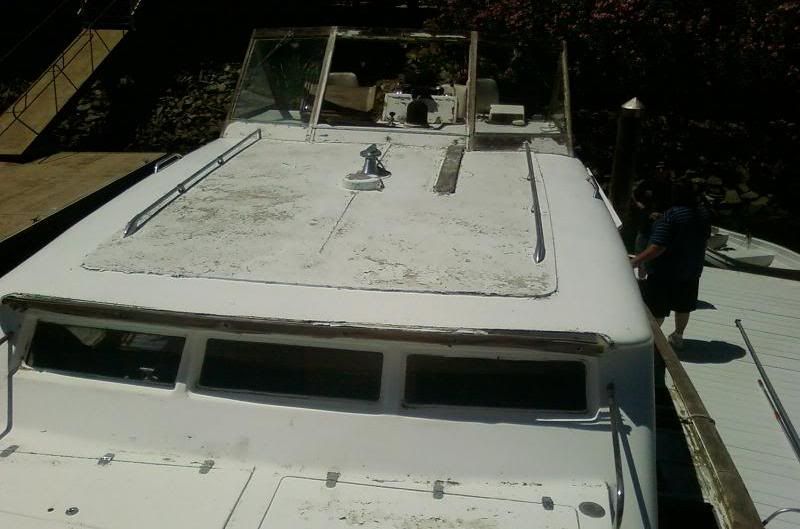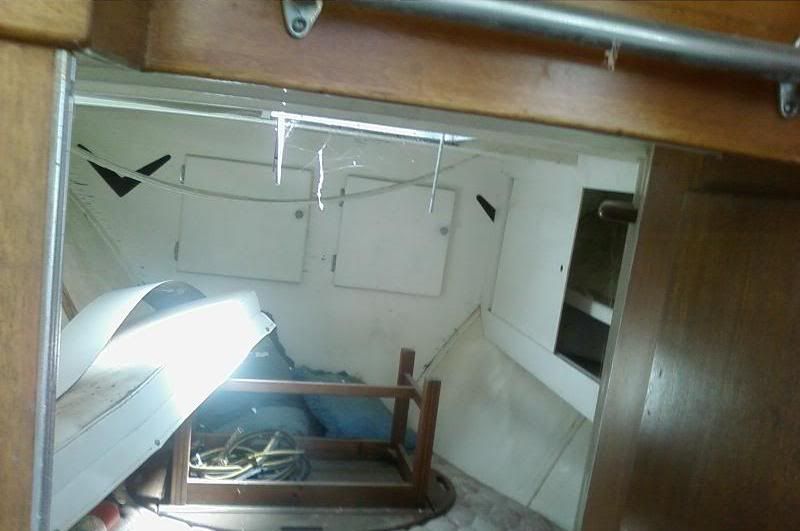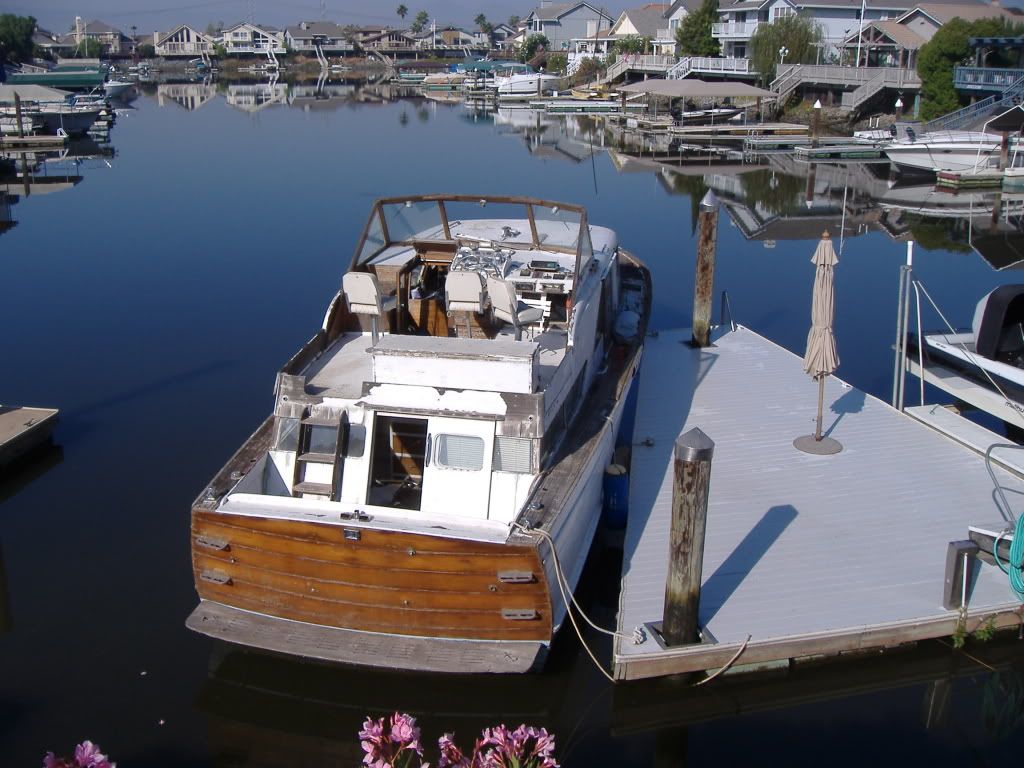 Jerry got hurt pretty bad and wasn't able to stay up on the boat. As any wood boat owner knows once you finish varnishing one end the end you started with needs to be varnished again.(Like painting the Golden Gate bridge) So sadly the boat was getting worse. So when I first started on the boat it looked like shit. But it ran, pretty flawless actually. Which was pretty amazing to find an old boat that bad, with new motors in it.
So after getting it okay ship shape I birthed her in San Rafael. Most of the marinas turned me away because of its condition and big wood boats in Marin is a big liability. A bunch of tweakers would make methlabs on them and blow up and catch on fire, then sink. Then leave the boat underwater. With some weird coast guard flaw in thier codes there is no limit to how far you have to have you boat above water. So they would leave it and call it underwater storage and there wasn't much the law could do about it if it was leaking any fluids. So anyways I found a place in the canal that would let me keep it. I didn't like the area. You would know if your from san rafael. But when I would be out sanding it or workin on it I would see other boats go buy and some were woodys. I remember waving a lot because well I've had a lot of boats and boat people wave, but people wouldn't wave at me. Young guy with tattoos workin on a bucket. No one from marin wanted anything to do with me. It really made me sad because Im not new to that area and had several newer fiberglass sailing boats at the time that I kept in Sausalito and always got respect when I was on board one of those. People wouldn't even look at me in the begin. I knew they knew I was there, as they were laughing drinkin wine most of which probably didnt even know where there battries where located but what ever.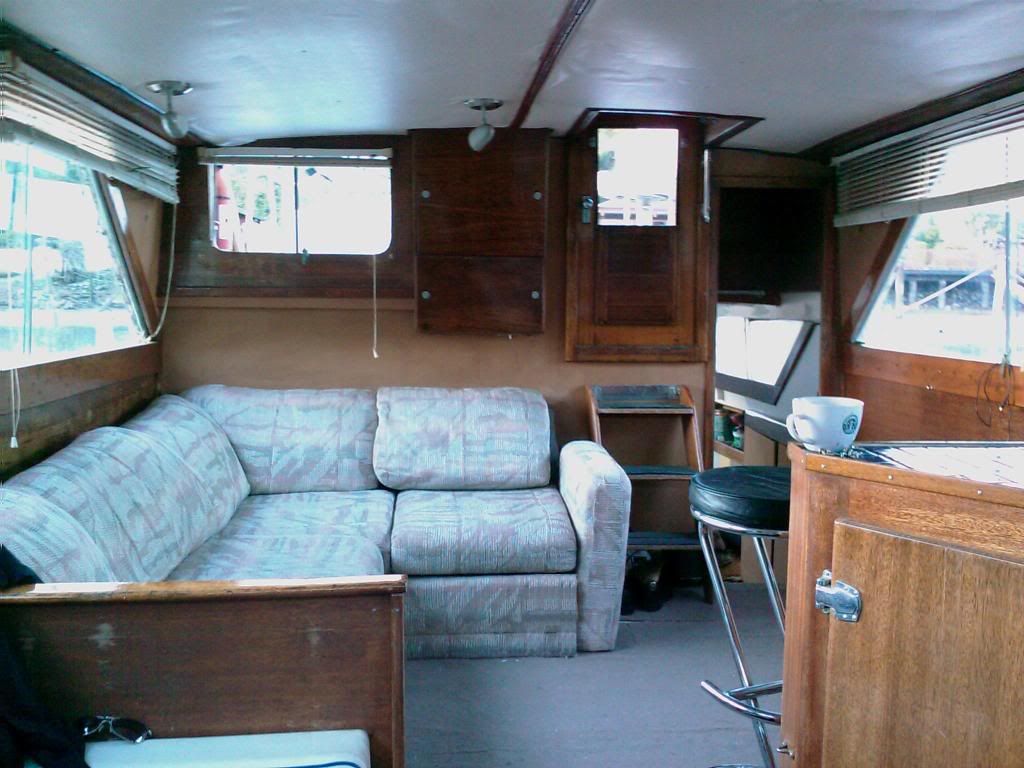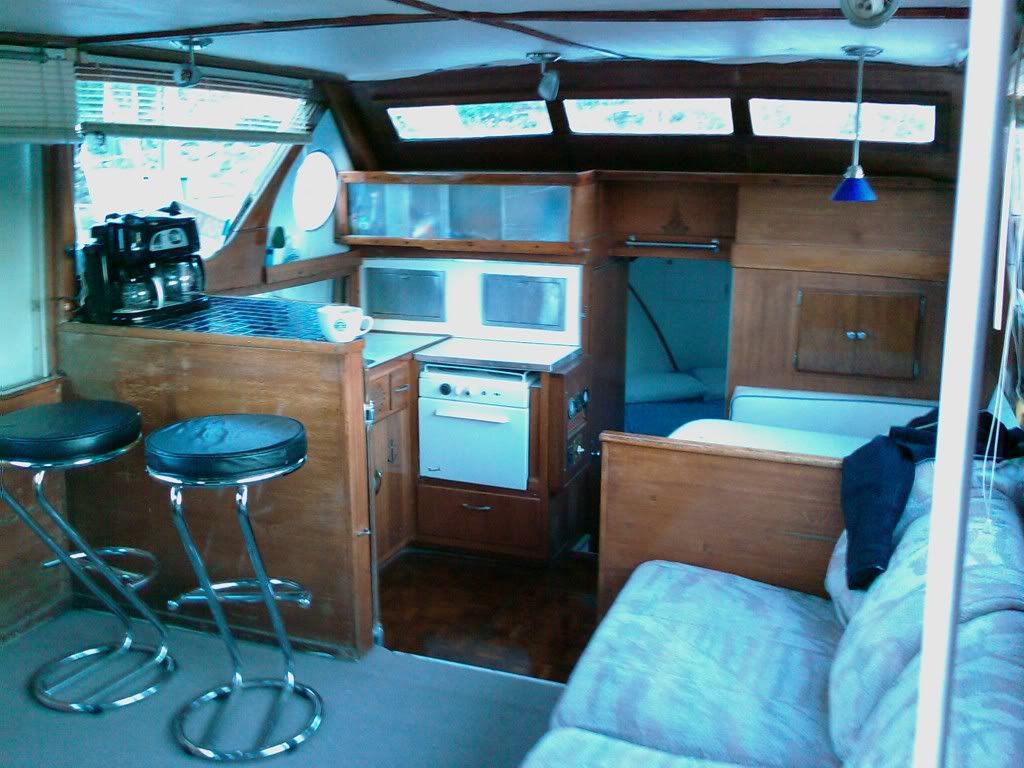 So after two years of THOUSANDS of dollars and MILLIONS of hours of work, hard work, blood, sweat, arguments, accidents, cut open body parts, and fights. I got her in pretty good shape. I was almost done. Its weird that I've had many boats,some big some small, some sail slowly and some go fast. But a wood boat is a part of you like a child i suppose. Having a wood boat you can live in is even more crazy. Because in a way she protects you and you become one with boat so much more when you sleep inside of her. She takes care of you more that you take care of her. You don't get that feeling on a small woody. Way more attachment. I had so many good times. On July 2nd I was married at 23yrs old and the next day spend my mini honeymoon on her in Tiburon and Sausalito. We watched the fireworks on forth of july stting on the custom cushion I had made for her large roof span. BBQ'd, made smores, played guitars with friends, drank some beers/wine, did a little partin at the bar in Tib above the docks and slept aboard that whole adventurous 4th of July weekend. Not only a celebration to the greatest country in the world but to the future of two young lovers. What great times.
I remember that weekend accidentally backing up over the dingy rope and getting it stuck. A lot of our guests freaked out and got off when we docked. Like if it was stranded even though I got all 42' of it back to the docks in Tib without even messing up at all. After that weekend we made it back to San Rafael with one engine no problem. What a great boat. So many moments good and some bad. Times when I would get phone calls in the middle of the night like hey your bimini just ripped off or your bilge is constantly pumping out water. So you got to get out of bed and drive down to it and get it done in the middle of the night. But not all moments in between those and working on it were bad. Moments like laying on the cushin under a blanket with your girl and your favorite dog next to you lookin up at the stars on a clear warm night are moments that make it all worth doing over again.
Unfortunately my luck with her didn't last. What happened sometime after was not my fault but was the fault of the management of the docks in which I kept the boat. It ended with me taking them to court for being responsible for destroying the boat. I remember when I first got the call about the accident my heart was beating out of my chest so much you could see it. When I got there and saw what happen I can honestly say I cried. Im almost doing it now just thinking about it. I put so much hard work and money into her. No one help me except the wife from time to time changing the station on the radio. But me all my work and memories. Taken from me because of someone else cheap ass rat bastards negligence. How ever I did do exactly what I told Jerry I said I would do and I did it better. I hope some day he can for give me and we can drink beers and share our storys of the days when we had her.
If you think you know what material attachment is,.. you have no clue until you have restored a old wood boat.(Especially a big one)