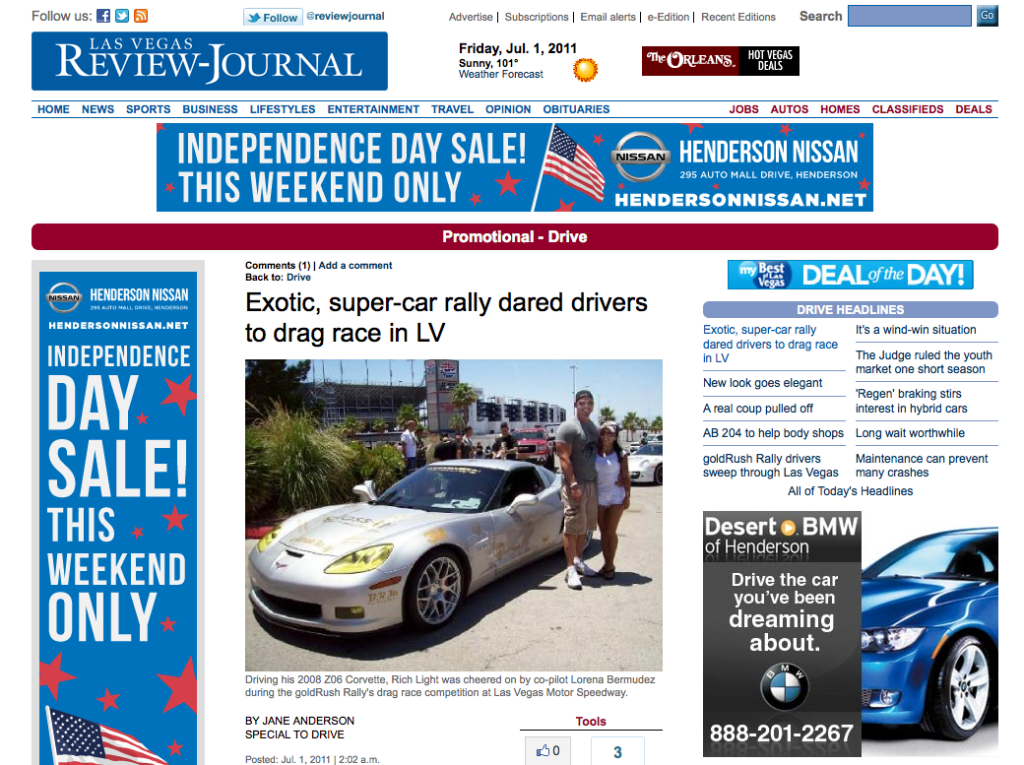 By JANE ANDERSON
SPECIAL TO DRIVE
Posted: Jul. 1, 2011 | 2:02 a.m.
Driving distance from Denver, Colo., to Park City, Utah, and into Las Vegas is about 720 miles. A single run down the drag strip at Las Vegas Motor Speedway is a quarter mile.
Averaging 65 mph, a trip from Denver to Park City to Las Vegas should take just over 11 hours to complete. For fast street cars, a respectable pass on the drag strip is anything between 12 to 14 seconds.
So, while in Las Vegas last month during the third stop in the five-city journey -- starting in Denver; then to Park City, Utah; Las Vegas; Scottsdale, Ariz.; and finally Dana Point, Calif., -- goldRush Rally participants also competed in bracket competition at the speedway. After a full morning of practice and timed runs, the winner of a coveted French-made B.R.M watch was A.C. Forgiato, owner of Forgiato, a Southern California custom-wheel importer and manufacturer. His nearly street stock 2011 Porsche 911 Turbo S turned in a time of 11.5 seconds.
The goldRush Rally, according to co-founders Ramin Arami and Abel Garcia, is a trend-setting celebration that, "combines social events and lifestyle brands with an exciting rally that encourages our participants to drive their exotic and super cars."
What was launched as an online forum for people with a passion for high-end cars now boasts more than 22,000 members.
"It started as an automotive social network (www.luxury4play.com)," Garcia explained. "Then, people wanted to get together with their cars, so we added VIP events and eventually the rally."
Rally organizers stress that the event is not a race and stepping over the speed limit isn't the point, although on occasion that does happen (apparently, five speeding tickets were issued in Arizona). The focus is on the experience of traveling across country with a group of like-minded people who like to drive their exotic cars. In fact, driving is a means of getting to the next destination for the planned parties and other social events at some of the finest hotels along the way. This, says Arami and Garcia, is what makes goldRush Rally more than just a road trip.
"These people want to drive their cars," Garcia said. "Some people take fishing trips or other adventure vacations. This is what our hard-working members want to do with their free time."
At the Las Vegas headquarters, participants parked their cars in the valet area at the Cosmopolitan for their overnight stay. The 69-car lineup included everything from a Mercedes-Benz SLR McLaren (top speed more than 200 mph), to super-fast Porsches, numerous Ferraris and one-of-a-kind Lamborghinis, BMWs, ultra-luxurious Maybachs and Bentleys, gutsy Corvettes, Audis and an over-the-top horsepowered ZR1 Camaro.
Las Vegan Rich Light has participated in all three goldRush events and was joined this year by passenger Lorena Bermudez, who also lives in Las Vegas and owns a clothing business. Light owns a highly modified 2008 Chevy Z06 Corvette.
"I'd been looking forward to running the car down the drag strip," Light said. "There was some pretty good competition. Unfortunately, I had a new clutch that was a little tricky off the line."
After numerous practice runs, Light managed to post a time just over 12 seconds. But as the afternoon heated up, so did his car.
"We were heading to Scottsdale that night, so I didn't want to have something go wrong and not make the next leg of the rally," Light said.
Fellow Las Vegan Mike Lysiak didn't make it to the drag race portion of the rally, but joined the caravan as it left Las Vegas to complete the Scottsdale to Southern California leg of the event.
In the rally, Lysiak drove a 2008 Lamborghini Gallardo Superleggera that he bought new after trading in a Ferrari and another Lamborghini.
"I saw this one and I just fell in love with it. I think it's an emotional thing. I was just drawn to it," he said.
Plans for next year's goldRush Rally (
goldRush Rally - Latest News
) include another stop in Las Vegas on the way to the final destination, which may be Austin, Texas, in time for the Formula One World Championship race in June 2012.