Back when I first met MTK, RAW, and the rest of the L4P crew I didn't know the first thing about watches. I had a crappy Kenneth Cole department store watch. It kept time well, what the hell did I care. But after being here for awhile I began to appreciate the work of art that a mechanical watch is. I first bought a Chotovelli which has come and gone. Then I stumbled across a watchmaker named Steinhart. After reading some reviews I decided to jump in and get my first "real" watch (which this review is about). I now have this current Steinhart and a Bell & Ross. But let's go ahead and start with the watch that started my love affair.
The History:
The company was founded by Gunter Steinhart in Jura. Steinhart watches are made in Switzerland and are marketed in the U.S. online through the Steinhart website (
Steinhart Watches
) The company offers a diverse line of watches including several Unitas based vintage military style models, some automatic diver models (including a GMT variant) an automatic aviator watch, mechanical chronographs, and even skeleton watches. My review here however will be focused on the Aviation series.
The Watch: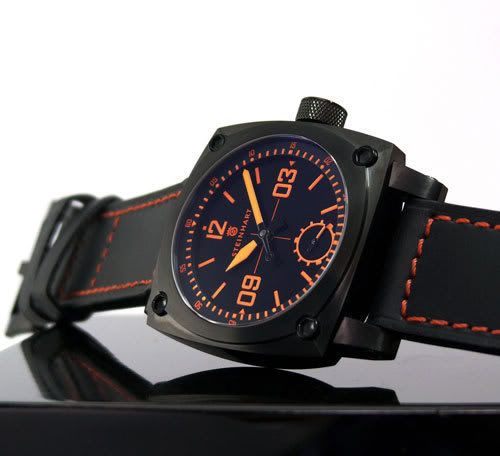 The Steinhart Aviation series is available in two models, the Aviation Basic and the Aviation. The Aviation Basic has no complications and lacks a exhibition case back. This specific review covers the Aviation with the Seconds complication, PVD case, and exhibition case back.
Ranging in price from €395 to €485 ($547 to $675). The Aviation comes in three choices, two of which have a PVD treated. The case measures 44m and has a very modern square shape.
The watch is powered by a Unitas 6498 Swiss Made manual wind movement. It has been adorned with geneva stripes, blued screws, and 17 jewels all visible through the sapphire crystal exhibition case back.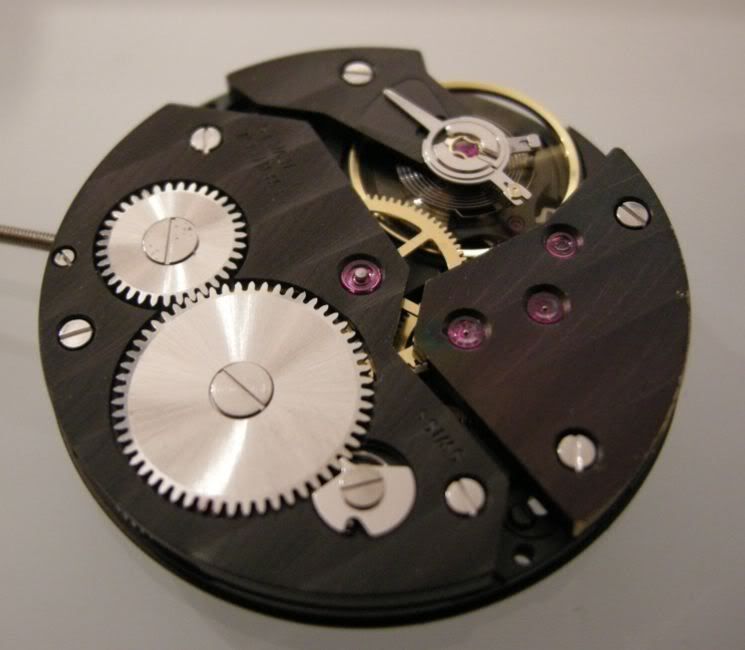 The front of the watch is PVD coated black, with matte black dial highlighted by orange luminescent hands. The dial features one complication displaying seconds at the six 'o' clock position. The lug width measures 24mm, making this watch interchangeable with many straps.
The lume on the watch is exceptional! You could lead a blind man through a dark room with this watch.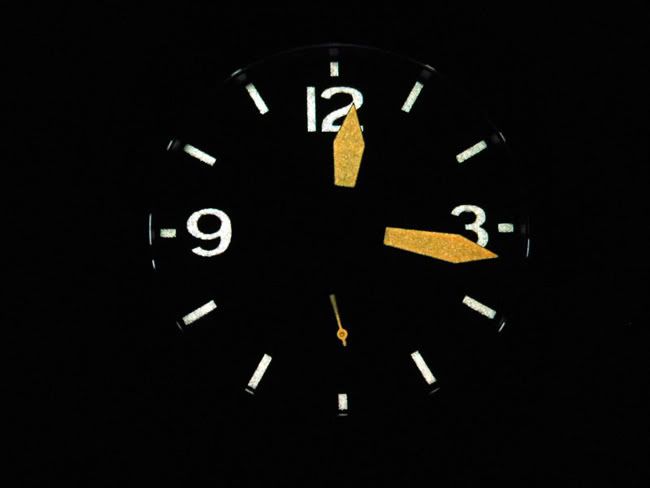 Last but not least, this watch had to have a personal touch. Rob Montana was the man for the job and made this AWESOME 1940s vintage leather strap that compliments the watch perfectly.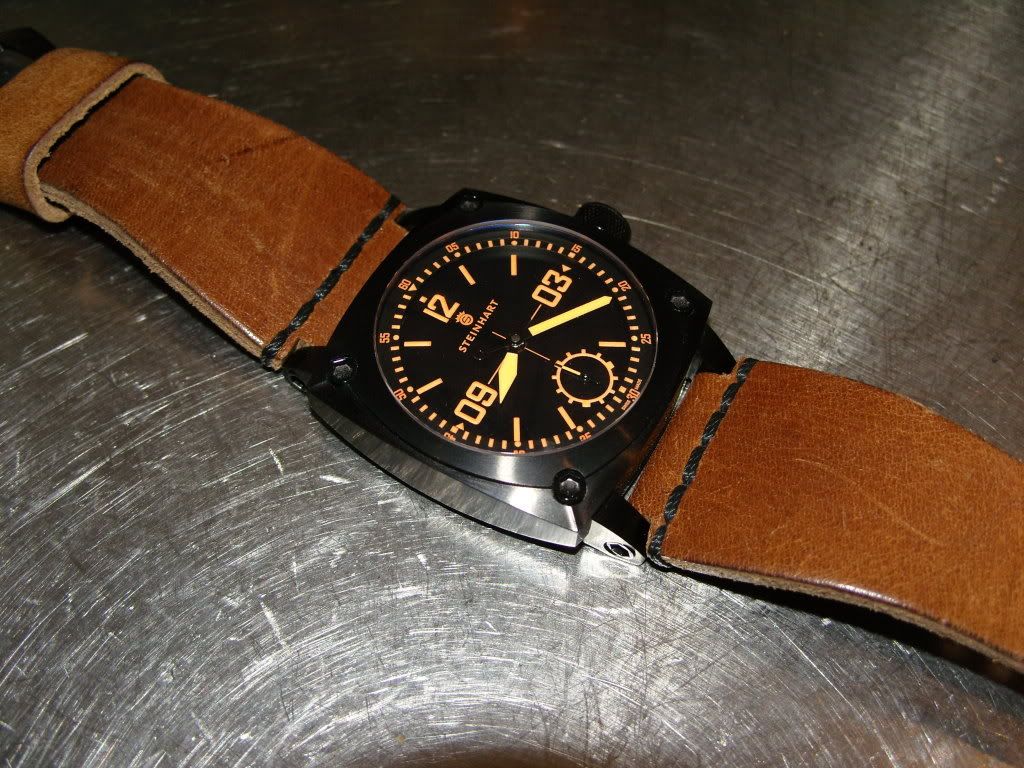 My Thoughts:
Steinhart Watches make an exceptional product in a very affordable price range. This watch is excellent for the person who is looking to get their foot wet for the first time with a watch purchase, especially if you are value-minded. While this watch isn't a Rolex, Bell & Ross, Panerai, it is a great piece to start your collection with.
Thanks for reading,
Justin Green
L4P Mod Squad