Jaeger LeCoultre Reverso Grande Date
Brand History:
A brilliant inventor and self-taught watchmaker, Antoine-LeCoultre founded his first workshop in 1833, following the invention of a machine to produce watchmaking pinions. Ever since, the Manufacture Jaeger-Lecoultre has developed constantly around the founder's original workshops.
Surprisingly enough, it was neither a physicist nor an engineer who first measured the micron; it was Antoine LeCoultre, in 1844. He had created watch components that were so perfect no tool could actually detect their degree of inaccuracy. He followed that up by inventing the world's most accurate instrument: the Millionometer, which served as a benchmark for over half a century.
In 1847, LeCoultre created a revolutionary system that was to do away with the need for keys to rewind and set watches. His simple and brilliant solution was a pushbutton that activated a lever to switch from one function to another. It was the first keyless winding mechanism, and the first reliable system that eliminated the need for keys to wind or set a watch.
In 1866, when Swiss watchmaking was still structured around small home-run workshops, Antoine LeCoultre and his son Elie decided to bring together under one rood the many skills involved in making watches, and installed a steam-driven machine to operate their new tools. LeCoultre & Cie thus became the first Manufacture in the Vallée de Joux.
It was in 1903 when the Parisian Edmond Jaeger set Swiss watchmakers the challenge of producing ultra-thin calibres. It would lead to the Calibre 145, the world's thinnest mechanical movement, measuring no more than 1.38 mm, and the friendship of Antoine LeCoultre's grandson, Jacques-Devid LeCoultre. These two men would give a rise to a range of horological wonders, and eventually the birth of the Jaeger-LeCoultre brand in 1937.
In the year 1908, the Manufacture created its first rectangular-shaped calibre in response to the challenge created to miniaturize watches to wear on the wrist. By the "Roaring 20s" (1920s), very small ladies' wristwatches were all the rage, but extreme miniaturization always led to a loss of reliability and precision. The Duoplan brilliantly solved this problem by arranging its parts on split levels. It would lead to the world's smallest movement, Calibre 101. Outdoing the Calibre 145, Jaeger-Lecoultre miniaturized the Duoplan caliber to the extreme, weighing in at barely one gram and comprising of 74 parts. Its record is still unmatched to this date.
Since its founding, the Manufacture has created and produced over 1,000 different calibres in many varieties. Over 200 patented inventions have contributed to the progress of Swiss watchmaking in the field of movements, as well as that of cases, bracelets, dials, and watch functions.
additional info/inventions :
Jaeger-LeCoultre - Wikipedia, the free encyclopedia
The Watch
While the Reverso has been a staple and the best selling watch for Jaeger LeCoultre, there are numerous models from automatic, manual wind, ones with shutters the reveal erotic pictures, to skeleton tourbillons... each have something unique about them, but all rotate around 180* to reveal a hidden side, a personal side... making them a "Reverso".
This reverso boasts an 8 day power reserve...but under my own testing it yielded an amazing 238 hours of time display... (just shy of 10 days) is said that the movement was originally designed as a 10 day movement but was solid and calibrated to work for 8 days optimally and the rest of the power reserve is not as accurate... regardles.. if you were to forget to wind the watch on the 8th day.. you would still have almost 2 days to wind before it stopped all together which i find very comforting.
MSRP being $10,050, this usually isnt the first reverso people choose... but for those who demand a long power reserve for their manually wound watch and a double date with a great display back this model usually fits the build.
Powering this watch, the in house cal 875, an 8 day manually wound dual barrel movement specifically designed for the reverso (note movement shape, this is not a round movement forced into a rectangle case) this movement was adapted to also work in the panerai 190/197 8 day model.. but with power reserve moved to the back.
while JLC does not put the most detail into the exterior finish of this piece (notice fully polished with some engraved lines) the detail goes to the amazing dial and movement.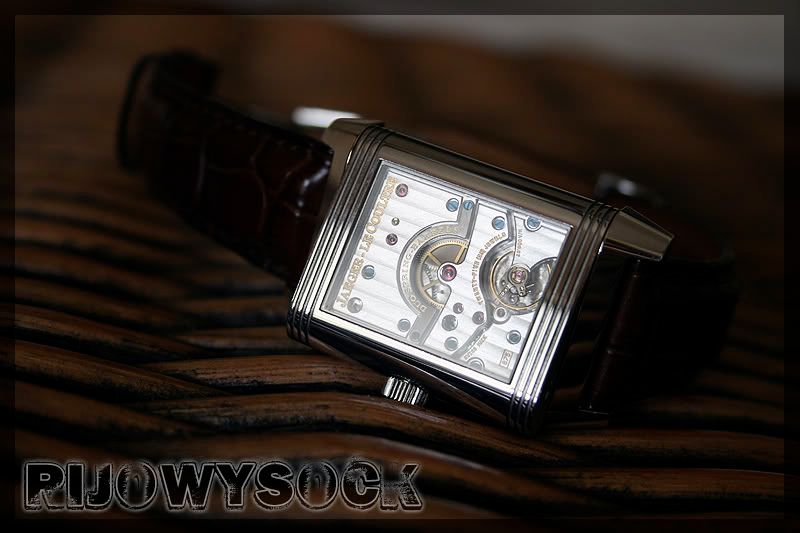 Grande date being sold either on croco strap for $10,050... also available on a metal bracelet for $11,450, Crocodile strap model comes either on an older single folding clasp, or modern double folding clasp as seen below. (double being more comfortable for smaller wrists) (watch also available in gold: strap/$19,300, bracelet/$33,750)
"finally dead after 9 days, 22 hours and 43 minutes and 19 seconds"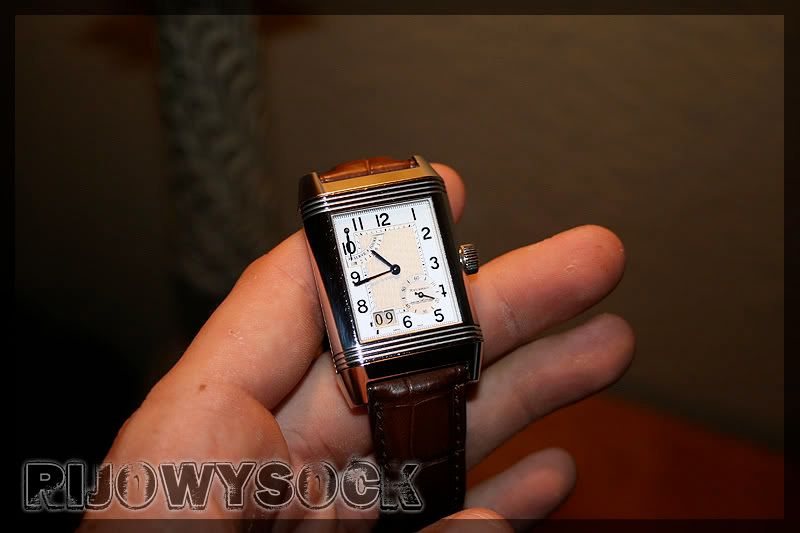 Model has blued steel hands, hour/minute/subseconds/power reserve.. it also employs a double date which uses two independent wheels that display the current date (one wheel 1/2/3/blank, other 0-9)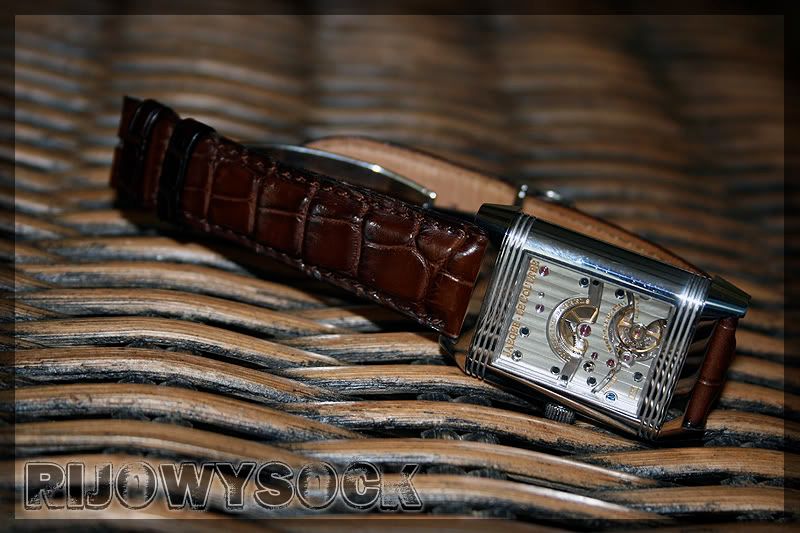 watch contains no luminous material, and time is not visible at night without some light... the hands however do contrast the dial well. so low light visibility is possible.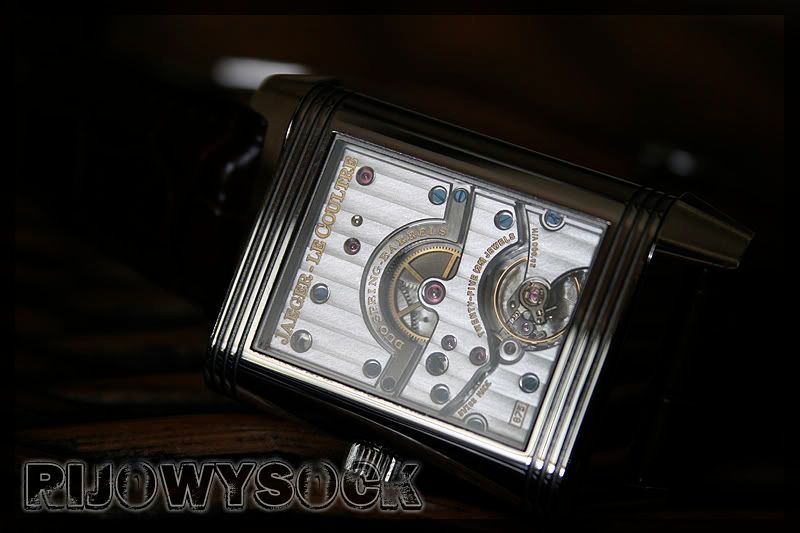 Watch is cased in the XGT size case which converts to almost 47mm top to bottom including lugs and 27mm wide.. the shape of the case allows this piece to be worn around the same as a 40mm round watch.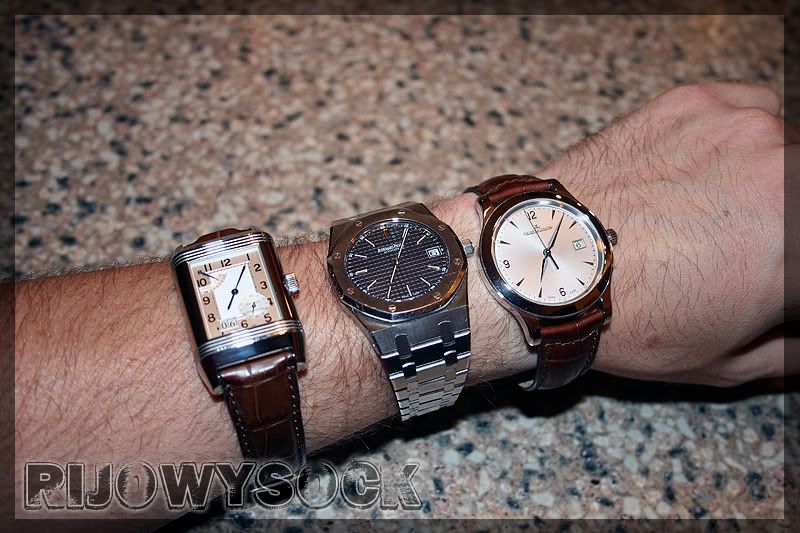 My Thoughts:
This watch is my personal favorite amongst the reverso pieces... i prefer it over the similarly XGT cased models "grand reserve, grande sun/moon, grande taille, and grande GMT" and also prefer it amongst the larger Squadra sized reverso pieces... although this piece is more dressy it can easily be dressed down.