Well it was Black Friday, and just my luck I happen to be walking by Lussori in Carmel. I decided to step in and take a look at the Bell & Ross collection they had. Out came the wallet, my wrist would have a beautiful new piece to sit on it. I picked up the Bell & Ross BR03-93-S (List $3,500).
The History:
Bell & Ross planted it roots in 1992. Carlos Rosillo (Ross) and Bruno Belamich (Bell) (both French) joined forces creating what we know as Bell & Ross today. In the beginning they focused on the production of cockpit mounted timepieces with the help of the German company Sinn. Soon their efforts expanded to European Military and Service personnel. A short 2 years later their watches were finding themselves being sought after by the general public.
Bell & Ross watches are simple, yet elegant in design. They certainly seem to serve more function than form. One look at their website (
Bell & Ross Official Website
) and you can certainly see that they have stayed true to their origins. In an interview Rosillo said of Bell & Ross designs, "We're certainly not about fashion. Fashion watches are in and out in six months. Like JEEPs in the car world, technical watches last in terms of looks as well as make. For us it's all about not having superfluous detail. There's nothing on these watches that is useless. You might say there's not much color to them, for instance. But until we find that color has a real function, there won't be."
The Watch: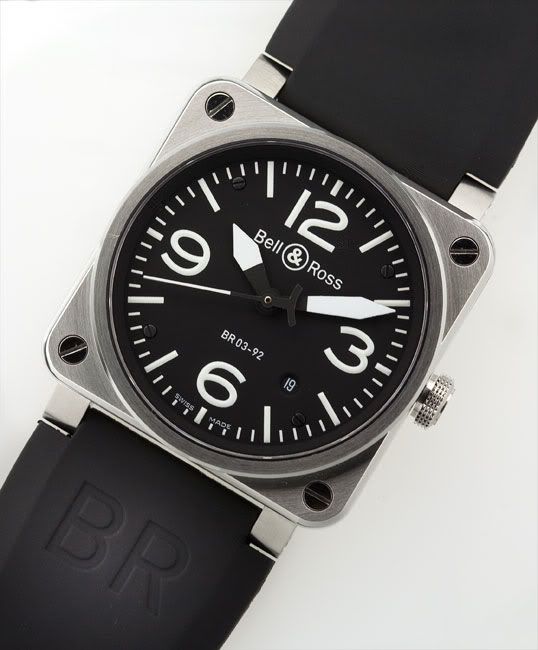 The Instrument Series consists of the BR01, BR02, BR03, and the newly announced BR-S. Each has it's own distinct characteristics. At the top you have the BR01-92 Tourbillon ($131,000 list / 60 pieces available). Each model comes in a variety of choices, and in the Limited Editions such at the Tourbillon Phantom with only 18 pieces available in the world. No matter how big or small your wrist may be you are in luck because the Instrument Series ranges in size from 39mm to 46mm. The BRO3-92 is a 42mm case which works well on my wrist.
This particular model is available in a stainless steel bead blasted case, carbonized steel case, or the limited edition carbonized cases with the phantom, orange, blue, or military dials.
The quality of the case is exceptional! The front of the watch is adorned with a flush-mounted sapphire crystal bearing an anti-reflective coating applied to the inside. The case is rated to 100m of water resistance.
The movement is the well-known and exceptional ETA 2892 Automatic, which has been re-worked in house. The watch displays hours, minutes, seconds, and the date. Unfortunately the movement is not COSC certified; however, since I have owned the watch it is only 1 second +/- per day.
The watch face is simple and has excellent Lume. The Lume is an extremely vivid blue that could be mistaken for a full moon it is so bright.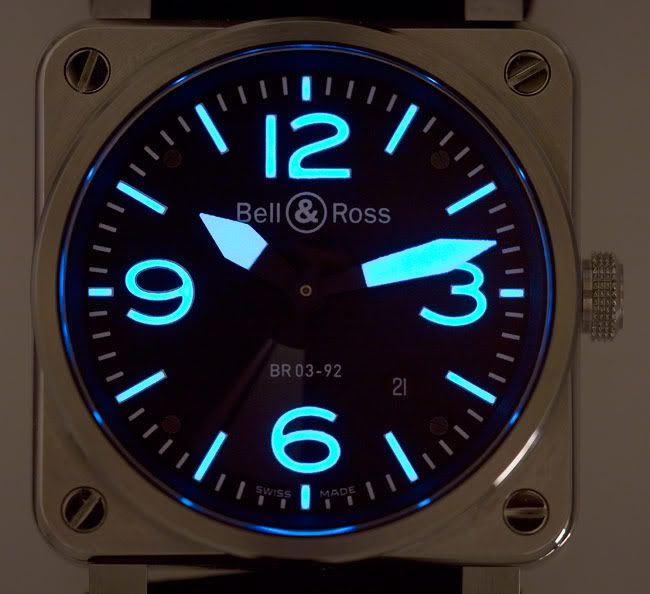 The BR03-92 comes with two straps in the box. The first being a rubber strap with BR lower portion, the second a nylon Nato strap. Both are held in place by flush fit hex screws. Bell & Ross provides you with two hex tools for easy strap changes.
My Thoughts:
All together, Bell & Ross makes an amazingly simple yet fun timepiece. The Instrument Series has quite a presence on the wrist with it's elegant, edgy design. I look forward to the many years of service the watch will bring me.
Thanks for reading,
Justin Green
L4P Mod Squad