Discussion Starter
·
#1
·
We have been getting a lot of questions regarding the HRE Wheels so I figured I would put a thread together that will hopefully answer a lot of the questions that we're receiving regarding HRE's monoblock wheels.

Right now we can get a set of monoblocks built for your car in 3 weeks. That said, we can usually have them delivered anywhere in the US in a month, give or take a few days.
SIZING AND FITMENT:
We can custom tailor a set of HRE wheels to perfectly match how you want your wheels to fit on your car. We make this process easy by not requiring you to know offsets or caliper clearances, we do the work for you. We have 4 choices available when it comes to how the wheel will fit on your car. HRE refers to these fitments as "F-0 through F-3".
F-0 (OE FITMENT) This is the fitment that your vehicles comes with standard from the factory. The wheel will be sucked in under the fender and, if you lower your car, it will be sucked in even more. If this is the wheel fitment that you are looking to go with, maybe HRE's are not for you.
F-1 (HRE STANDARD FITMENT) If you do not ask for a specific fitment, this is the standard wheel fitment that you will get. It will maintain the OE ride quality and enhance the look of your vehicle. No modifications are required to install this fitment.
F-2 (FLUSH FITMENT) This is the fitment that you will see when most wheel companies show off pictures of their wheels on cars. If this is the look you're going for then the F-2 may be the ideal fitment option for you. You should have your vehicle lowered when using this fitment and the wheel will generally be flush with the fender. This fitment may require a slight roll of the fenders, or possibly even a particular tire brand to fit properly. An alignment and camber adjustment is recommended for the perfect ride height and performance.


F-3 (AGGRESSIVE FITMENT) I'M SORRY, I DON'T GET IT. This is for people that are looking for the wheel to be really aggressive on their car and to stick out past the fender, this is often referred to as "HELLA FLUSH". This fitment will require fender modifications, super low coil-overs or airbags, a special tire size that is heavily stretched, etc. If this is the wheel fitment that you are looking for than HRE will build it for you but we're probably not the shop to buy it from. I know it is a popular way to build wheels lately but it makes no sense to me why you would do it. Safety First!
FF01- The Flowform wheel is the lowest cost wheel from HRE. This is not available for all cars but we have them available for many different vehicles. These are often in stock and available for immediate delivery. They are available in 19" and 20". These are not available in custom fitments.
PRICE-
19"- $725.00/wheel
20"- $775.00/wheel
Custom Colors Available - $125.00/wheel for custom color.
FF01 Liqiud Silver-
FF01 Tarmac-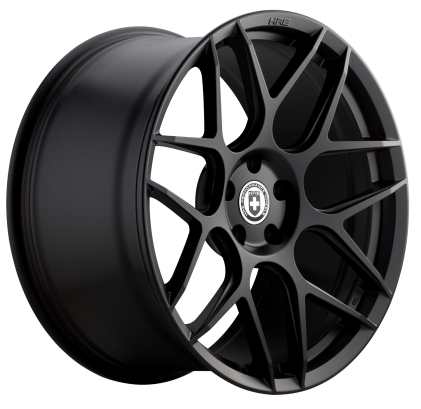 P40 SERIES - This is available in 19" and 20". They come with a lifetime structural warranty and a 2 year finish warranty. They are made from aerospace grade 6061 T-6 aluminum for a high strength to weight ratio. They are OE TPMS compatible for ease of installation.
PRICE-
19"- $1500.00/wheel
20"- $1600.00/wheel
P40-
P41-
P43-
P47-
P40S- These wheels are available in 18" (high offset only), 19" and 20". They come with a lifetime structural warranty and a 2 year finish warranty. They feature a motorsports inspired profile and are made of 6061 T-6 aerospace grade aluminum. Side cuts and back pocketing are stander to minimize unsprung weight and rotational inertia for improved handling and performance. They are CNC machined to custom specifications for your specific application. OE TPMS can be used for easy installation.
PRICE-
18"- $1600.00/wheel
19"- $1700.00/wheel
20"- $1800.00/wheel
P40S-
P43S-
P45S-
P40SC Series- These wheels are available in 19", 20" and 21". They are just like the P40S series wheel except that they have a more modern conical style to them.
PRICE-
19"- $1800.00/wheel
20"- $1900.00/wheel
20"- $2000.00/wheel
P40SC-
P43SC-
P44SC-
P45SC-
P47SC-