Discussion Starter
·
#1
·
Alright, I'm now deciding between 2 watches. If you read my other thread I said that I just got my dad's Rolex Oyster Perpetual Date-Just. I will do a comparison with my dad's Rolex and a $20.00 Chinatown Folex when I get my new Samsung Epic. I spent 2 hours cleaning the Rolex last night haha, didn't go to bed until 3am and had work at 7...I love this watch. Anyway, since I got my nice out on the town watch, I also want a nice pow in your face watch that just stands out. The two watches in battle are:
Hamilton 'Seaview 1000' with the Hamilton 20mm Black Rubber w/ White Stiching band ($800.00)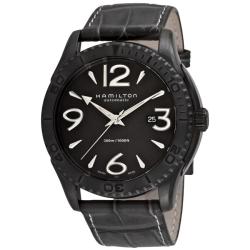 Sonbol Milita: Grigio Titanio ($645.00 Regular, but I'm getting a really SPECIAL PRICE!!!)
I'm drooling over the Hamilton, but the only thing holding me back is the price. If I could just get it for $650.00 I would totally go for it over the Sonbol, but the Sonbol I'm getting for a ridiculous price. Would anyone be or know of anyone selling a Hamilton Seaview 1000? Anyway, what are the verdicts people? I'm thinking about buying the Sonbol for now and then when I get more $$$ buy the Hamilton later on, but if I can get the Hamilton now I'll skip on the Sonbol. Man, this watch game is a tough one.