Discussion Starter
·
#1
·
GTR Liberty Walk/Armytrix/Brixton/Ecutek Build Log – Vancouver, Canada
For those that are interested in GTR projects involving a LibertyWalk conversion, I will be documenting my project vehicle which will be having the transformation done. Some of you may recognize this GTR from an audio build thread that I had done previously on GTR Life. In addition, I will also detail the installation and testing of the Armytrix GTR full exhaust system and follow it up with the Ecutek tune and dyno testing and some fun videos.
Most of my bolt-on performance mods have been done over the past year.
This particular build log will focus primarily on the body kit, exhaust, rims/fitment/stance, and graphics work.
The short-term goals are to have the vehicle ready for the tuning/dyno day with John Visconti on the 13th of June and the Diamond Rally (a 100-car cruise for charity from Vancouver to Whistler Mountain) on June 14.
GTR Modification List:
- 2013 GTR (R35 DBA Chassis)
- Liberty Walk Performance full body kit front and rear bumpers, overfenders, and swan-neck rear spoiler. Liberty Walk USA, Official Site, LB Performance, luxury car body kits
- Custom widebody installation by Serial Nine (Vancouver, BC)
http://www.serialnine.com/
- Armytrix Electronically Variable full exhaust kit (s/s downpipes, Y-pipe, midpipe, exhaust, and titanium exhaust tips) Armytrix world-class titanium & stainless cat-back performance valvetronic exhaust system for Lamborghini, Ferrari, Porsche, BMW, M-Benz, Audi, Volkswagen, GT-R R35
- Brixton Forged Wheels 20-inch, reverse lip, 3 piece, ultra deep concave rims with custom offset and 3 tone color. (Los Angeles, CA) Brixton Forged Wheels | Brixton
- Michelin Pilot SuperSport tires
- Racing Greed titanium 1.25 lugs finished in Neo-Chrome coating.
-Custom painted Brembo brake calipers - by ACG (San Diego, CA)
- Endless NX72 brake pads (front and rear)
- Password JDM carbon fiber engine manifold cover
- Password JDM carbon fiber engine battery and driver's side panel covers
- Password JDM carbon fiber radiator trim panel
- Password JDM carbon fiber rear exhaust finishers
- Greddy carbon fiber hood dampers
- Ecutek engine management with Flex Fuel setup and custom mapping and dyno tune by John Visconti this June 2014. EcuTek - Advanced ECU Technology
- HKS SSQV4 blowoff valves
- GotBoost 3" polished intakes and filter kit
- ASNU 1100 cc fuel injectors
- DW 65C fuel pumps
- Type1Racing polished intercooler
- Type1Racing s-coil adjustable suspension sleeves and springs
- Forged polished res tank
- Type1Racing filler caps
- Type1Racing blue mirror kit and side view mirrors
- CarKit bypass module and front/rear camera and power mirror module
- WrapWorkz 3M 1080 Matte Gray and Brushed Black Metal vinyl wrap interior and exterior (Vancouver, BC)
- Mosconi Zero Four amplifier
- Mosconi Zero Three (x2) amplifiers
- Mosconi 6to8 Digital Signal Processor
- Focal XXXL sound deadening products and blackhole acoustic tiles
- XS Power AGM and Stinger power supply/wiring products
- Pioneer P99RS source unit
- MacBook Air (streaming of 24 bit/96 kHz and up) source unit
- iPad Air (x2)
- Gladen Aerospace 165.2 component set (3-way front stage)
- Gladen 10" Zero Pro subwoofers (x2)
- Compustar with Drone GPS alarm
- Custom installation by Simplicity in Sound (San Jose, CA)
Ok, so lets start with the car as I have it currently.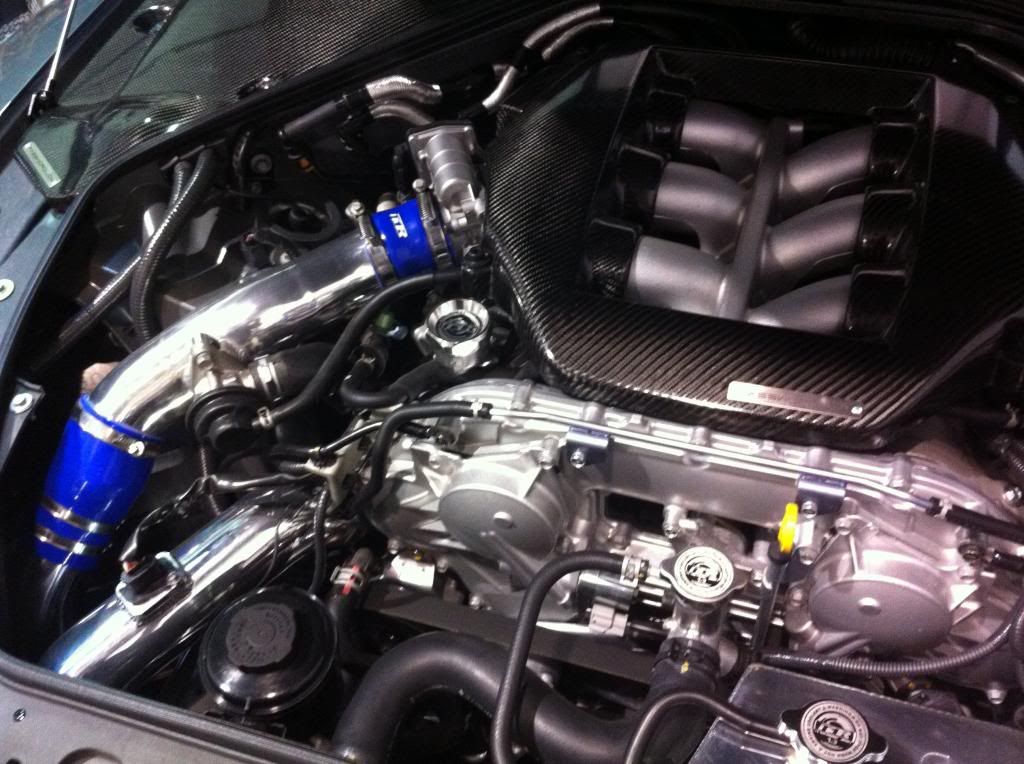 Brixton Forged Wheels was a brand that I hadn't known too much about personally. On my search for excellent wheels that would complement this project, I came across this new brand that I believe came onto the scene just recently. Their offerings and finishes are stunning. I particularly liked their selection of finishes and textures.
I immediately fell in love with the R25 Monaco style. Flat/Reverse lip. Although it would have been more "JDM" style to do a stepped lip, I believe this style is in keeping with the look I wanted to go after. Blending a bit more North American neo-muscle car look with the LB kit in contrast. Breaking routine is something Kato from LibertyWalk would probably give a nod to.
B&W pics until we do a final reveal…