Discussion Starter
•
#1
•
We created a schedule for friends and fans to come check us out at hotels or some of the stops along the way. Hope to see some of you !!
goldRush Rally - goldRush Rally GRV™ 2013 Schedule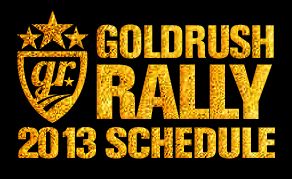 goldRush Rally GRV™ 2013 Schedule. We are pleased to announce our destinations and times for this years event. We invite you all to come by, see the cars and meet the teams assembled from around the world to participate in this years rally. This years rally will start in San Francisco on June 8th and travel to Los Angeles, Las Vegas, Dallas, Memphis, St Louis and end on June 15th in Chicago. See you all there.
Saturday June 8th, 2013
Registration: 10:00am - 6:00pm
Location: Fairmont Hotel
Street: 950 Mason Street
City : San Francisco
State: California
goldRush Participants will arrive & check into Fairmont Hotel. Their cars will be on display in front for fans to enjoy.
Sunday June 9th, 2013
Rally Kick-Off: 8:30am - 5:00pm
Location: Fairmont Hotel
Street: 950 Mason Street
City: San Francisco
State: California
The gRushers begin their first day of driving.Departure time is scheduled at 8:30 am with a police escort. They will make their way to Fairmont Hotel in Santa Monica. Expected time of arrival is 5:00pm.
Monday June 10th - Wednesday June 12th, 2013
Viva Las Vegas: 7:30 am - 6:00pm
Location: Fairmont Hotel
Street: 101 Wilshire Blvd
City: Santa Monica
State: California
Early birds rise and head out to beat LA Traffic at 7:30 am. They will make a stop off at Spring Mountain Motorsports in Pahrump, Nevada before reaching their two day hotel destination; Encore Las Vegas.
Teams will Live it up in Sin City for two days and nights. They will party at only the best clubs and pool party.
Wednesday June 12th, 2013
Lone Star Kick-off: 11:00am - 5:00pm
Location: Omni Hotel
Street: 555 S Lamar Street
City: Dallas
State: Texas
Those participating in only the second half of gR5 will register at the Omni hotel & await our gR Participants flying in from Las Vegas. A private party will be held in the evening.
Thursday June 13th, 2013
Chasing the Blues: 8:00 am - 8:30 pm
Location: The Peabody Memphis
Street: 149 Union Avenue
City: Memphis
State: Tennessee
gRushers leave Omni hotel and first head south to Texas Motorplex located in Ennis for the Exotic Car Drag Races. Fans are encouraged to come check out exotic cars such as Bugatti Veyrons, Lamborghini Aventadors, Ferrari 458s & more race against each other on the Drag Strip. Time at the track is 8:30 am - 11:30 am. From there we head North to the City of Blues Non-Stop. You can catch us on Beale Street during the evening.
Friday June 14th, 2013
Archway Bound: 9:00am - 6:00pm
Location: Ritz Carlton
Street:100 Carondelet Plaza
City: St. Louis
State: Missouri
Before leaving Memphis, the gR Rally Participants will enjoy VIP access and lunch at Graceland from 9:30am - 12:30am. From there it's off to St. Louis.
Saturday June 15th, 2013
Finale: 9:00am - 4:00pm
Location : Chicago Marriott Downtown
Street: 540 N Michigan Avenue
City: Chicago
State: Illinois
Countdown to the end! On the final day, gR Rally heads to Chicago Motor Cars for lunch and a tour of the dealership. After a bite to eat, the teams head to their final destination hotel. They end their journey with an awards ceremony at the most exclusive club in Chicago: Studio Paris.