All,
Thanks for the continued support!
You've seen our industry leading watch and jewelry safes but I've yet to present our top of the line residential/commercial estate vault doors.
Brown Safe has been building the highest quality, most fortified safes and vault doors for over 30 years. Recently, with the tumultuous economy, our clients have been purchasing our ballistic armor safes and vaults to protect their valuables.
The COM-G8040 is one of our top of the line ballistic Estate vault door offerings and has the following construction:
COM-G8040 Vault Door with fire protection
- Construction: 2" Thick Laminate Plate (Full Face copper & manganal)
- 1.5" Solid steel door, 1/4" Copper, 1/4" Ballistic Armor
- Fire protection: 2.5'' composite barrier. Rated 90 minutes at 1,700 degrees
- Optional 1" of additional composite barrier for another hour of fire protection
- Weight Approx 6,000 lbs.
- Seven 1" locking bolts with anti-drive resistance
- Five active and passive relocking devices
- Continuous locking lug on hinge side
- Inner escape device to prevent accidental lock-ins
Here are some pictures of the door: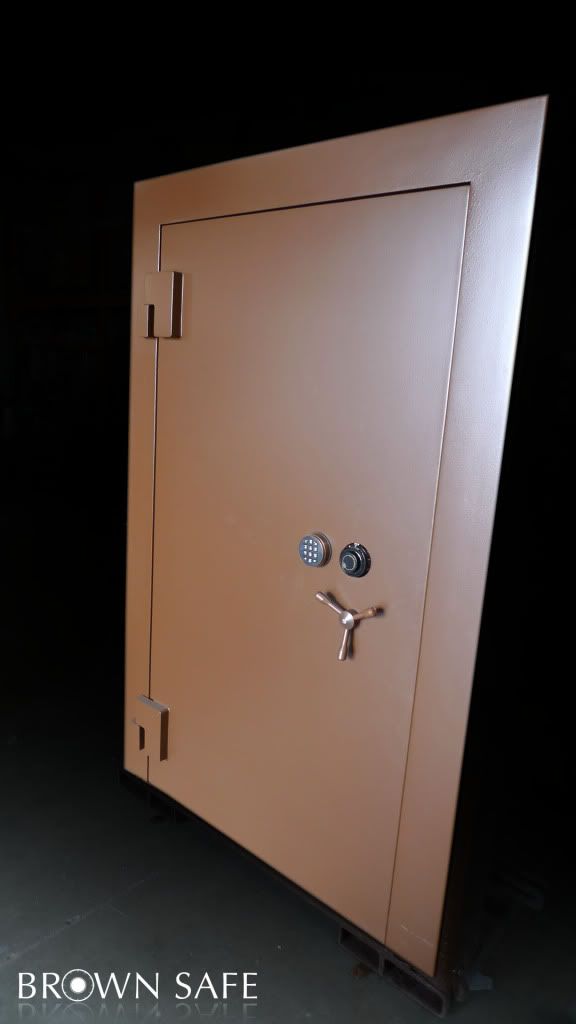 This is the finest, high security door available in the world today, period!
Here is a link to more information about our Estate Doors online:
Vault Doors - High Security Commercial Vault Doors
Please contact me directly with any questions.
__________________
Matt C. Goldstein
Brown Safe Manufacturing, Inc.
"Built To A Higher Standard"
Safes - Brown Safe Manufactures High Security Luxury Safes, Standard Safes, Custom Safes, and Vaults
[email protected]
Office: 760-233-2293
Cell: 760-807-3752