2013 Ferrari 458 Spider
Well, I got the recommendation from another detailer in a different state to have me detail this beautiful Ferrari 458 spider for this now client of mine. After numerous planning attempts to ship the car down to me, I threw out the idea of having me go up there to him! Works out in his favor as he always gets to see his baby every night, and I saved him about 1/2 the shipping cost along with the chances the tow company ruins things! Win win for all!
Story starts on sunday morning, yes super bowl sunday! I left my house at 445 am and made the 4.5 hour drive north to this clients house. It was a chilly morning at about 46 degrees when I got there! Washing the car lead to numb hands, but I pushed through it! It was a smooth drive up and I missed all the traffic...unlike the return trip!
Upon arrival, the car looked really glossy...like really glossy! Looks good from far, but I know its far from good! While washing the car, I noticed a very slick feel to the paint. Obviously it was loaded with some kind of wax! The beading made it very apparent this was the case.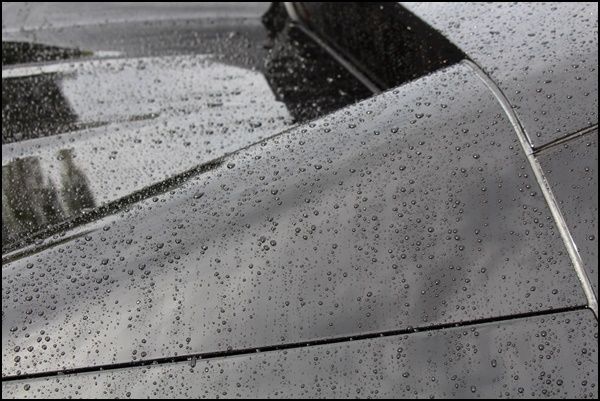 After a APC and meguiars hyper wash bath, the car was is a less than protected condition and ready to reveal its true condition once I pulled it back inside the garage! This is what I had to base my assumption that the car was in less than ideal condition…burned trim, wax in all the crevices, swirls, etc.
And its not just swirling, its sanding scratches all over the car…I mean all over! It looked as though the car was sanded, but only glazed and waxed. I just don't understand how Ferrari lets cars be sold in this condition!!! I guess its job security as I can fix the paint, but wow, 15 out of 17 458's I have done had sanding scratches all over them. The below picture is a shot of the condition of the entire car…DA sanding pigtails and scratches and swirl marks galore! The paint looked grey rather than black! Three different spots on the car…side, top, rear deck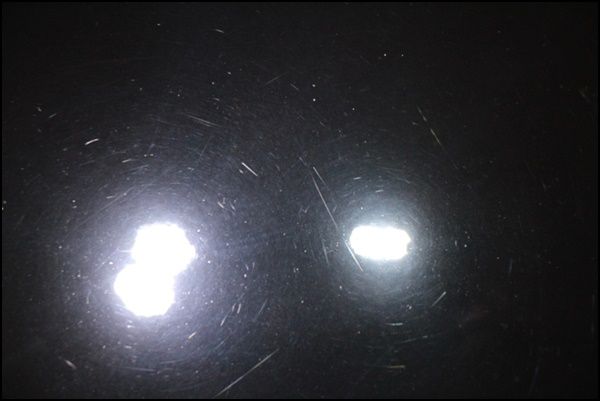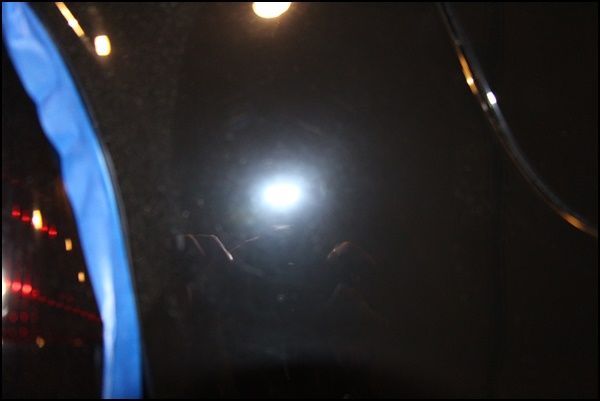 There was quite a bit of taping to do in order NOT to burn any more trim. Taking it on and off and putting it back on to polish different sections was a must!
Beyond the trim issues, the hood needed to be propped up in order NOT to burn any edges on the adjacent panels. This is done in order to properly polish up to the edges as much as possible, never over polishing!