So it was here... I wonder why I didn't sign up way back then? Usually if I come across some content like that I will register for the forum and at least say "thanks".
Well, here's a belated "Thanks" to you, MTK and FrankyFerrari for a glimpse at that encounter with what is an absolutely beautiful McLaren, and quite special given the history as well.
Someone inquired in that old thread about the status of the other prototypes and rather than pull it out of the archives, I'll just put it here.
I sort of covered it in the "Dream Garage" thread already, and a little bit here too, but basically XP1 and XP2 are both gone. XP1 crashed very early on in the development process, before XP2 was even completed yet. Then one of XP2's chores was to serve as the car used for barrier crash testing at MIRA in the UK, and even though it survived the impact test very well and could have been driven away, it was quite the development hack and was eventually scrapped.
XP3 was given to Gordon Murray as a gift after being cleaned up and brought up to almost full-production spec. He is still the owner today.
I told the basic story of XP4 in
my very first L4P post
so if you wish to read it, it's there.
XP5 remained with the factory for a very long time after production was over, still being used as a marketing and demonstration car which was always its primary role since it was the closest to full production spec. It spent a short period of time on display in the McLaren showroom in London on Park Lane just prior to that closing in early 2004. Then it was on almost permanent display at the new McLaren Technology Centre in Woking, UK. I expected they would keep it forever given that it was the F1 that set the 240.1 mph top speed record in 1998, but now I suspect they may have finally sold it on to a real customer as of ~Sept 2009. Some photos and a pair of videos surfaced of it all taped up with blue painter's tape (what McLaren frequently does when they prep a car that will be test driven) at the Bruntingthorpe track where McLaren usually take new owners for their first shake down runs in the car. These are those pics I reference - click for larger: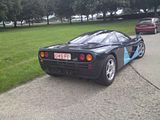 Probably it has remained in the UK given the plate is taped over at the front. Throughout its life it
always
wore the reg plate "K8 MCL" and there would have been no reason to hide that unless it had been changed. The plate on the rear is just a temp tag/dealer plate that belongs to McLaren which they can move between cars they are servicing.
>8^)
ER