GA: 06/30/11-Thrusday, 4th July Kick-Off Meet & Bikini Contest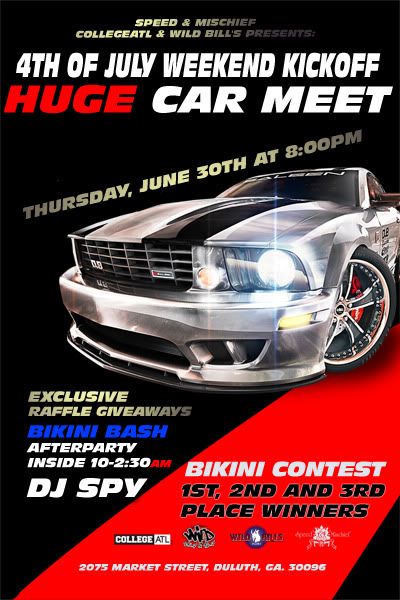 What: 4th of July Weekend Kickoff Meet & BIKINI CONTEST & Bikini Bash Afterparty
(Outside)
When:
06/30/2011, Thursday. 8:00pm-2:30am
Where:
Wild Bills (
Front Parking Lot, pull right in the "GOLD LOT $5". We don't pay, just say you are here for the Meet
)
2075 Market Street, Duluth, GA
-We will have DJ SPY Spinning outside for the whole meet.
-Raffle Giveaways
-Then BIKINI BASH AFTERPARTY inside Wild Bills.
-Kitchen opens inside up at 9PM, no need to drive around.
-$1 Beer inside (Please bring a DD if you are going to be drinking, we don't advise to drink & Drive.)
::Best of all, ALL THIS FOR
FREE
::
To sign up for guestlist visit
RSVPATL - Your Source For Atlanta Nightlife!
or say "Sunny Malhotra's List" at Ticket counter. 21+ Free, 18+ $5
Bikini Contest, Hot Cars, live music, hot people, raffle and more...doesn't get any better. See you there.